You might think the job market is awful, but that's only because you're hung up on trivialities like "money." If you can just learn to do without a living wage, the job market suddenly looks much better.
Roughly half of the jobs created in the United States in the past three years have been low-paying jobs, according to economists at the Royal Bank of Scotland, in a research note sent to clients on Monday, titled "A Closer Look At The Labor Market Recovery."
Nearly all of the 6.2 million jobs created since the job market first started its historically lousy recovery in the spring of 2010 (nearly a full year after the recession ended) have been in the private services sector, according to RBS. And of the roughly 160,000 jobs per month created in that sector, about 80,000 of them have been "low-paying," according to RBS. "High-paying" and "average-paying" jobs account for about 40,000 jobs each, according to RBS. (Story continues after the depressing graphic.)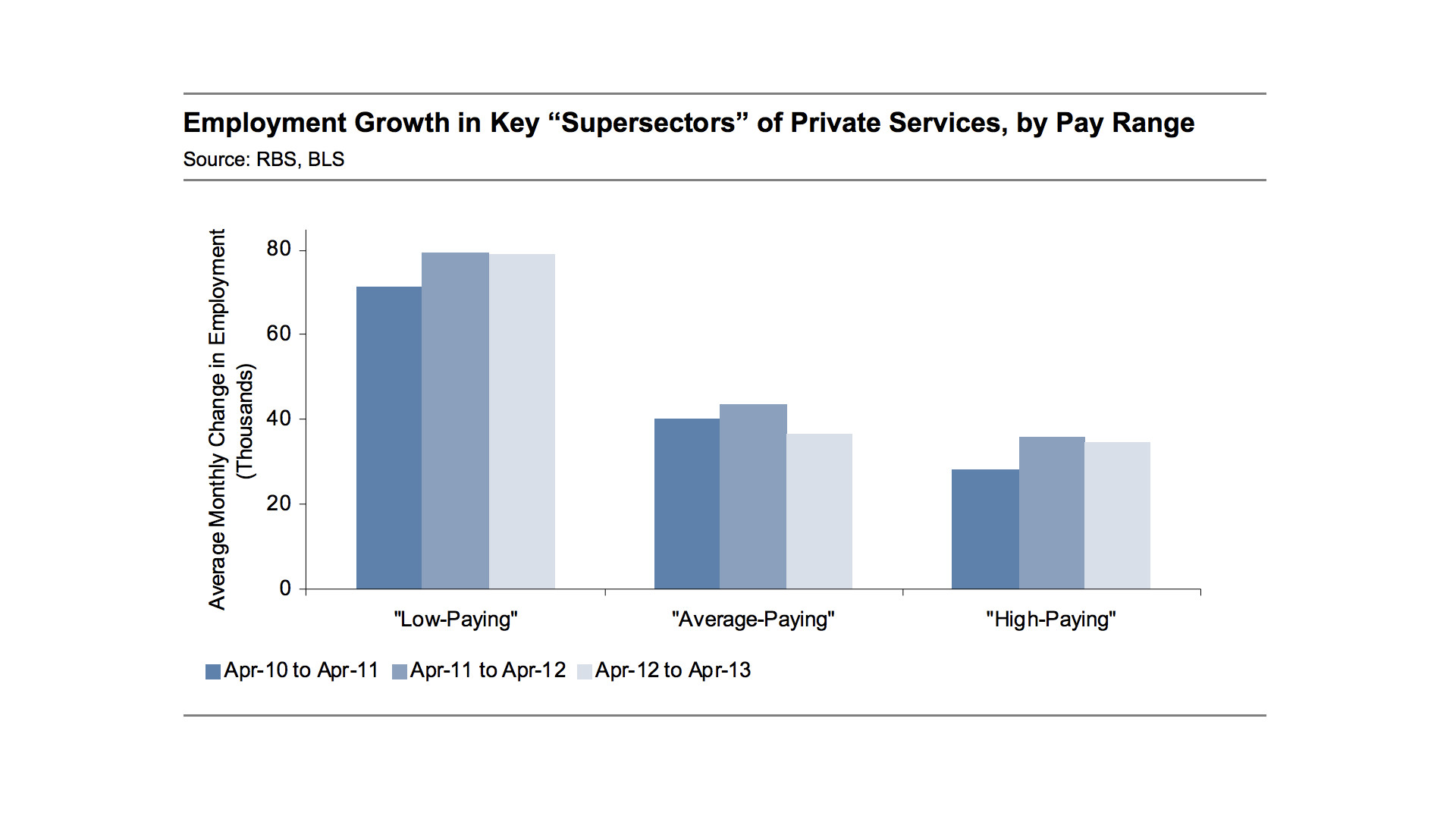 RBS defines "low-paying" jobs as those paying 80 percent or less of the average private-sector wage of $20.04 per hour. Sectors that pay poorly include retail sales, leisure and hospitality and education.
Making matters worse, the percentage of people working part-time is still higher than it was before the recession, RBS points out -- nearly 19 percent of all workers, compared with 16.5 percent before the recession.
This sad breakdown helps account for why, even as corporate profits and the stock market have soared over the past three years, workers' wages have gone pretty much nowhere. Average hourly earnings have gained just 1.9 percent in the past year, not enough to keep up with inflation.
The RBS study echoes several others in recent years, including a National Employment Law Project study from August that found three-fifths of jobs created since the recession have been low-paying, roughly matching the number of middle-income jobs that were lost. About a third of working families in the U.S., representing about 47 million people, are in low-wage jobs today, according to the Working Poor Families Project.
The lousy quality of the jobs being created has helped widen the already yawning gap between rich and poor in the U.S. And it means, as The Huffington Post's Saki Knafo reported recently, that many of the people who have been fortunate enough to find jobs in the past four years still don't make enough to feed their kids.
BEFORE YOU GO
PHOTO GALLERY
10 Things The Fast Food Industry Doesn't Want You To Know