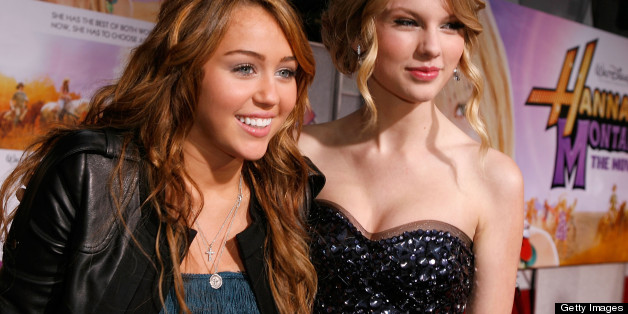 As Smash Mouth once sang, why can't we be friends?
Miley Cyrus wants fans of Selena Gomez and Taylor Swift to just cool it. The 20-year-old singer appeared exasperated on her Twitter page as she encouraged rabid Twitter fans to stop "wishing death upon their peers like psychos" and informed them that the three of them, contrary to popular belief, are actually "all friends."
Cyrus' full Twitter message is below. (For reference, "Smilers" is what Twitter fans of Cyrus call themselves.)
"Everyday someone with a Swift or Gomez in there name wishes terrible things upon me (death is popular) Please Smilers don't ever think somehow you are supporting me by being hateful towards other aritst. My fans make me proud by supporting my music & everything I do. Im sure these haters would make their idols much happier tweeting bout their music rather than wishing death upon their peers like psychos Btw im not saying Smilers can't act cray too. #deaththreats #TOOOOFAR We are all friends. Why can't you all be?"
BEFORE YOU GO
PHOTO GALLERY
Celebrity Feuds