Is San Francisco 49ers linebacker Patrick Willis the cold-blooded killer of a cold-blooded reptile?
The six-time All-Pro offed what was apparently a nonpoisonous gopher snake with a pellet gun on his property, riling up critics who saw the photos of him and his quarry on Facebook.
(Story continues below)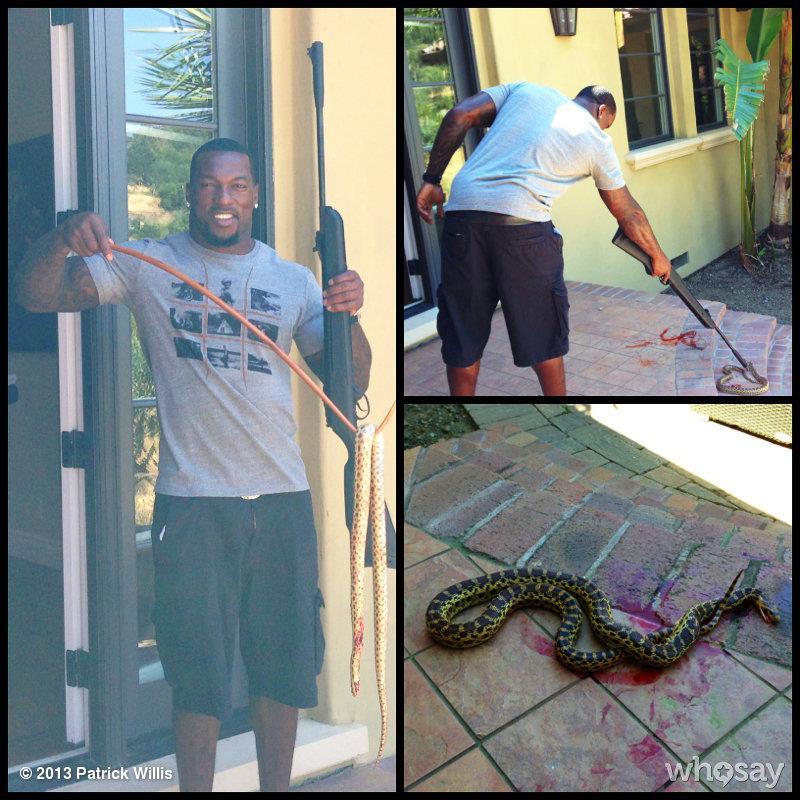 Credit: Patrick Willis/Facebook
Several users reminded Willis that gopher snakes eat mice and gophers. "U inhumane niner," one wrote. "Why did U kill him?" another asked.
Of course some fans came to the All-Pro's defense, too, pointing out that snakes are scary to some people and can be misidentified. (And who among us hasn't used a mouse trap now and then?)
As of Monday evening, Willis had not answered his detractors but he did write with the photos, "Never a dull moment. I had an intruder in my house welcome to the hills....... Got em."
UPDATE: PETA emailed the following statement to The Huffington Post: "PETA thinks that a beloved, 240-pound linebacker can find a more humane way to remove a nonvenomous snake from his home—and he certainly doesn't need to brag about it online. Patrick Willis lives in the Pacific gopher snake's natural habitat, and they don't want to be in our homes anymore than we want them there—so it's important that we learn to coexist peacefully. We hope that Willis can find a kinder way to defend his home in the future, and PETA is happy to offer him some humane options."
BEFORE YOU GO