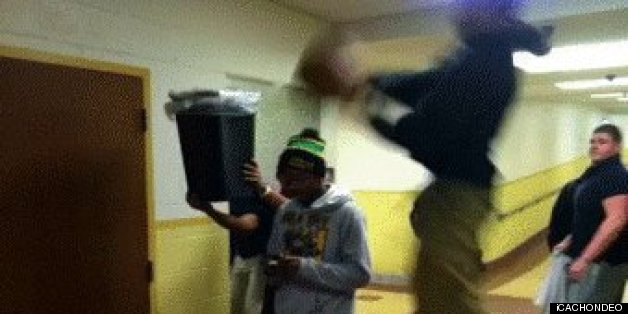 Have you been wondering how Alton Lister coped after Shawn Kemp put him on a poster in 1992? Been curious about how DeAndre Jordan felt after obliterating Brandon Knight this season? Or ever wanted to see how a classmate, acquaintance or complete stranger might react to such an onslaught in a hallway?
If you answered "yes" to any of these questions then "posterizing" may be the next meme for you. In the pioneering example below, two young men team up to "posterize" a third (who may be in on it or may just be really absorbed by whatever gadget he's carrying). Bonus points have been awarded to both for the use of the waste basket as a hoop as well as the timing off the self alley-oop pass off the wall.
According to Lang Whitaker of All Ball at NBA.com, this GIF first surfaced on Twitter over the weekend.
BRUH GOT POSTERIZED IN THE HALLWAY OMG i.imgur.com/G6xeDkV.gif

— MAMBA (@Scrimsurlalune) May 12, 2013
Whitaker believes it could be "the next great viral internet movement." While there don't seem to be enough examples of "posterizing" to really make it a trend just yet, this meme-in-the-making has garnered plenty of attention. Deadspin declared "All the cool kids are doing it." SportsGrid put out a call to the "Kids of the world," pleading with them to "put down your Okama Gamespheres and start posterizing your friends." BroBible believes it "may be the coolest new craze yet."
Cooler than Tebowing? Bolting? Dufnering? What do you think?
For your comparison and inspiration, here are 101 of the most epic posterizations in NBA history.
PHOTO GALLERY
101 NBA Posterizations