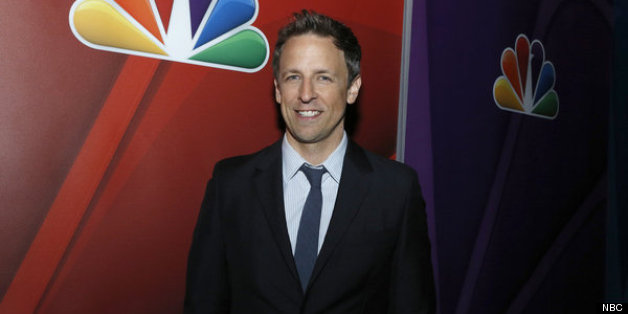 Seth Meyers is taking over "Late Night" from Jimmy Fallon and to say he's both surprised and excited about his new gig is an understatement.
"I've been surprised by everything that's happened to me since I got hired on 'Saturday Night Live' so this is just a continuation," Meyers told The Huffington Post on the red carpet of NBC's 2013 Upfront presentation. "When I'm not on camera, I look like Macaulay Culkin from 'Home Alone.'"
Meyers has been with "Saturday Night Live" since 2001. He became the head writer in 2006 and took the "Weekend Update" anchor chair opposite Amy Poehler. When Poehler left, Meyers became the solo anchor. He'll take over "Late Night" from fellow "Saturday Night Live" alum Fallon, who will move to "The Tonight Show" in 2014. Who's going to take Meyers' "Weekend Update" seat? He doesn't know. "Thankfully, mercifully, that won't be my job," he said of finding his replacement. "But I do know that there are a wonderful amount of great candidates for that chair."
Meyers said he does plan to take a little bit of "Weekend Update" with him to make "Late Night" his own.
"I think it only works if you bring your own flavor. My job over the course of the next year is figuring out what that flavor is," he said. "My favorite thing about 'Weekend Update' is anytime crazy lunatics come out and try and talk to me. I'd like to keep that alive and well on 'Late Night.'"
PHOTO GALLERY
NBC's New Shows 2013-2014
BEFORE YOU GO