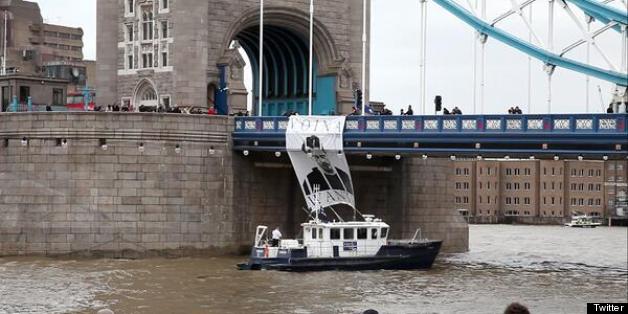 Voina, the radical Russian art group that once painted a 200-foot-long penis on a drawbridge in St. Petersburg, has struck again... sort of.
Recently, the guerrilla collective hung a banner showing the face of oft-imprisoned leader, Oleg Vorotnikov, off the side of London's Tower Bridge. But the random act of street art was quickly foiled by British police who removed the work only minutes after it was displayed.
Voina Wanted banner hanging on Tower Bridge 3.30pm today, stopped by Port of London Authority and Police. twitter.com/culturalhijack…

— Cultural Hijack (@culturalhijack) May 12, 2013
According to BBC's Russian-language news, police caught wind of Voina's recent outdoor installation when city authorities reported suspicious activity on the bridge. As a result, bobbies were quick to pull the plug on the art project, forcing Voina to take their banner -- an homage to Vorotnikov's outstanding Interpol arrest warrant -- elsewhere.
The "Voina Wanted" work is part of a larger, international art endeavor called Urban Interventions, reports The Moscow Times. The Russian artists were able to bring their banner to London's Architectural Association School of Architecture after their failed efforts on the bridge.
This isn't the first time Banksy's favorite protest art group has attempted to publicize their thoughts on Vorotnikov's legal troubles. The very same banner has been unfurled in cities like Tokyo and Brussels as well. Let us know what you think of the campaign in the comments.