An Arizona cop gave a hardworking teen an unexpected break last month, and the story of her kindness has since made her an Internet celebrity.
Phoenix police officer Sgt. Natalie Simonick was out on a late night patrol on March 6 when she spotted 18-year-old Christian Felix walking home from a friend's house in a desolate area of the city, KNXV reports. According to the City of Phoenix Police Department, which shared the story in a viral Facebook post last week, Simonick offered the teen a ride home, and that's when she learned of his impressive story.
Story continues after photo.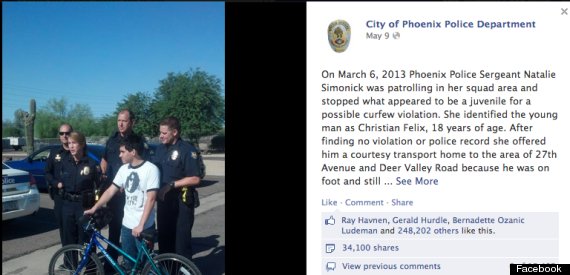 Felix told Simonick how he often had to walk 6 miles to and from his fast food job. When she asked if he had a bike to use, he replied that he'd never ridden one.
"He never had a father in his life, so he had no one to teach him," Simonick told ABC.
After discussing the teen's situation with her husband, Simonick decided to donate a mountain bike to Felix so he could get around the neighborhood. She even arranged for squad members to teach him to ride the bike over the following weeks.
"It's really something when someone comes up on the street and offers to do a kindness for you," Felix told KNXV. "These days you don't see anything like that."
According to ABC, the two have kept in touch and Simonick plans to keep tabs on Felix and help him out whenever she can.
Sgt. Simonick is not the first cop to brighten someone's day with the gift of a bike. Last month, California cop Michael Kohr gifted a little girl with a brand new princess bike after hers had been stolen.
H/T: msnNOW
BEFORE YOU GO
PHOTO GALLERY
Gifts That Give Back