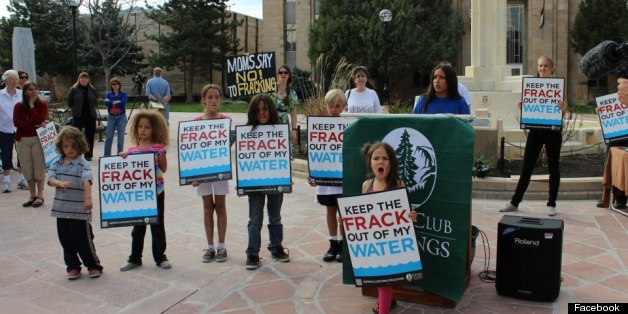 Local activists in Boulder held a rally on the Boulder County Courthouse lawn Monday in honor of Mother's Day urging commissioners to extend a moratorium on hydraulic fracturing.
Boulder mothers, children and activists sent out a press release that they were rallying because they are "concerned that if fracking is allowed, increased emissions, spills and leaks from operations will negatively impact public health."
The current moratorium on new oil and gas leases is set to expire on June 10. County commissioners have set a public hearing for this Thursday to discuss applying transportation impact fees on oil and gas companies operating in the county.
Boulder County's new "Oil and Gas Road Deterioration and Roadway Safety Fee" schedule will be incorporated into the Boulder County Land Use Code regulations if they are approved and would take effect on the same day the moratorium is set to expire.
"Our children are among those most impacted," Micah Parkin, a mother and organizer from 350 Boulder, a local environmental group, told The Boulder Daily Camera.
The Boulder City Council is set to consider a fracking moratorium within city limits and on city-owned lands on June 4.
"I think our lands could well be at risk, and we need to protect them," councilwoman Suzanne Jones, who supports the moratorium has said.
Voters in the city's neighboring Longmont have already approved a fracking ban, but the state has also sued Londmont over that ban and until the case steers its own course through the courts it's unknown what limits local governments can set on fracking.
According to activists though, the University of Colorado is working on a study of the health impacts of fracking and local environmentalists would like for the moratorium to be extended at least until that study is completed.
A study completed by the University of Denver last year already has linked a concentration of air pollutants five times higher than the federal hazard standard to within a half-mile of oil- and gas-well fracking operations.
"Our data show that it is important to include air pollution in the national dialogue on natural gas development that has focused largely on water exposures to hydraulic fracturing," said Lisa McKenzie, Ph.D., MPH, lead author of the study and research associate at the Colorado School of Public Health.
Boulder County currently has 21 approved drilling permits, all for Encana Oil and Gas.
BEFORE YOU GO
PHOTO GALLERY
How Fracking Transforms Fortunes, Land