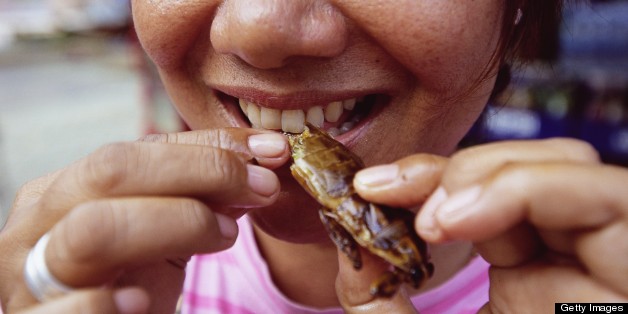 WASHINGTON -- The cicadas are here!
After 17 years underground, Brood II cicadas are slowly emerging from North Carolina to Connecticut. Eventually, billions of cicadas will noisily make their presence known along the East Coast, rising from the earth to "sing, mate and die."
While plenty of people express disgust over the beady-eyed bugs, others take a more creative approach. One way to make use of the swarm: eat 'em. After all, cicadas are a low-fat, high-protein snack, says National Geographic.
The University of Maryland's cicada cookbook offers 15 recipes for "cooking and enjoying periodical cicadas," from Soft-Shelled Cicadas and Maryland Cicadas (seasoned with Old Bay, natch) to Cica-Delicious Pizza and Banana Cicada Bread. Although the cookbook's disclaimer does "not advocate eating cicadas without first consulting with your doctor," author Jenna Jadin writes that cicadas "contain a high protein content, and since cicadas eat only vegetable matter, they are a pure and wholesome food source."
It's important to note that if you're allergic to shellfish, you should not eat cicadas.
For everyone else, we've rounded up 10 tasty ways to make use of Swarmageddon 2013. Let us know if you try any of the recipes!
PHOTO GALLERY
Cicada Recipes
BEFORE YOU GO