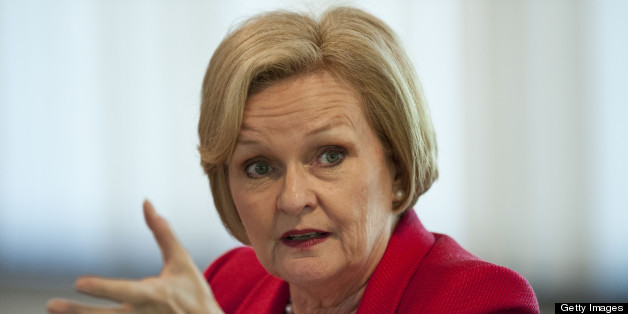 Sen. Claire McCaskill (D-Mo.) said Tuesday that Republicans are basking in the series of scandals currently engulfing the Obama administration.
"They got balloons and confetti dropping on the Republican side because now they can distract everyone from things we need to be doing, like immigration reform, going to conference on the budget," McCaskill told reporters in the Capitol.
Senate Minority Leader Mitch McConnell (R-Ky.) is not the type of man one associates with giddiness, but he let out a rare smile Tuesday as he spoke to reporters, noting that the administration had targeted both the press and tea party groups. "I'm not being critical of you, but now I think you get it," McConnell told the reporters.
"I've never seen anything quite like this in the past, except for the Nixon administration," Sen. Orrin Hatch (R-Utah) added.
McCaskill allowed, however, that the scandal surrounding the Department of Justice, which snooped on Associated Press phone records, "sucks." She wasn't quite ready to call for Attorney General Eric Holder's job, though.
"It's tacky that this happened," said McCaskill. "It would be just as tacky for me to call for his head without explanation."
Speaking to the press Tuesday, Holder said that he had recused himself from his department's decision to seek AP phone records.
The Obama administration has come under fire over the past week as it was discovered that the Justice Department had secretly obtained months of AP phone records. Meanwhile, as the debate over the Benghazi attack heated up, news broke that the Internal Revenue Service had targeted groups with the words "tea party" or "patriot" in their name for greater scrutiny of their applications for tax-exempt status before the 2012 election.
McCaskill said that these issues should not stop Congress from getting other work done.
"There's real problems Americans want us to be fixing, and we can't get so distracted by all this that we quit doing our jobs," she added.
BEFORE YOU GO
PHOTO GALLERY
Politicians React To IRS Scandal