 The Force is strong with this one: On May 14, 1944 in Modesto, Calif., George Lucas was born to parents Dorothy and George Lucas, Sr. Sixty-nine years later, Lucas is one of the most influential filmmakers in the history of Hollywood, the man who made the Kessel Run in less than 12 parsecs who created "Star Wars" and "Indiana Jones."
After making his directorial debut with 1971's "THX 1138," Lucas co-wrote and directed the coming-of-age classic "American Graffiti." (The film was based on Lucas' early life in Modesto.) Featuring a bevy of future stars like Harrison Ford, Ron Howard and Richard Dreyfuss, "American Graffiti" was a hit; the 1973 film earned five Oscar nominations including Best Picture, Best Director for Lucas and Best Original Screenplay for Lucas, Gloria Katz and Willard Huyck. After "American Graffiti" came a little film called "Star Wars" (later known as "Star Wars: Episode IV - A New Hope").
"Star Wars" became the highest-grossing film of all time after its initial release, before being passed by Steven Spielberg's "E.T. The Extra Terrestrial" in 1982. Lucas' film spawned two sequels ("Star Wars: Episode V - The Empire Strikes Back" and "Star Wars: Episode VI - Return of the Jedi"), three prequels ("Star Wars: Episode I - The Phantom Menace," "Star Wars: Episode II - Attack of the Clones," "Star Wars: Episode III - Revenge of the Sith") and, now, another trilogy. Disney and Lucasfilm will release "Star Wars: Episode VII" sometime in 2015. Lucas will not direct the new film, but is onboard as a consultant; Lucas sold Lucasfilm to Disney for $4 billion last October.
"I've never been that much of a money guy," Lucas told Business Week in a recent interview. "I'm more of a film guy, and most of the money I've made is in defense of trying to keep creative control of my movies."
About those movies: After "Star Wars" came out in 1977, Lucas would not direct again for 22 years. He returned to the director's chair for "The Phantom Menace," and used much of the 1980s and 1990s to help shepherd other films and properties to the screen. He produced "Raiders of the Lost Ark," "Indiana Jones and the Temple of Doom" and "Indiana Jones and the Last Crusade" before making "The Phantom Menace." Lucas also produced "Indiana Jones and the Kingdom of the Crystal Skull," which arrived in theaters in 2008.
Wish the bearded icon a happy birthday in the comments below and share your favorite Lucas creation.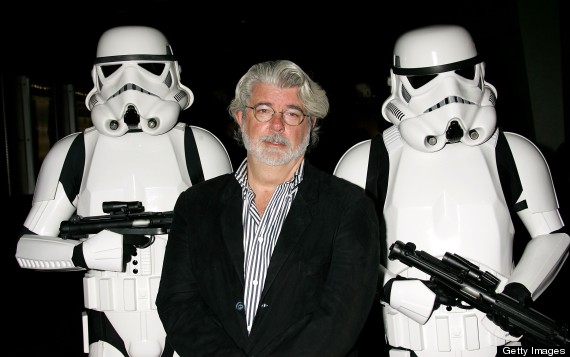 PHOTO GALLERY
People Who Have Never Seen 'Star Wars'
BEFORE YOU GO