 When it comes to sentencing former Congressman Jesse Jackson Jr. and his wife, ex-Chicago alderman Sandi Jackson, it seems everyone has an opinion.
Dozens of letters to federal judges have poured in during recent weeks, with petitioners lodging requests for both mercy and punishment.
For the disgraced ex-representative Jackson, disaffected former constituents and one-time congressional colleagues have all weighed in. Former 2nd Congressional District constituent Gregory Ritter pulled no punches in his letter to Judge Wilkins, The Hill reports:
"[M]urder would be a lighter crime, as these defendants have used the political hopes and dreams of the constituents as a blank check for deceit," Ritter wrote, adding "the violation of this magnitude has made our democracy shiver."
Rep. Marcia Fudge of Ohio, meanwhile, insisted in her letter that Jackson is "worth saving" and noted the ex-Congressman was a "highlight of our karaoke nights." Texas Rep. Eddie Bernice Johnson also wrote Judge Jackson saying her colleague had "worked hard to serve his community throughout his tenure."
Markham, Ill. resident Tiny Hawkins disagreed, saying Jackson never did anything for the district during his tenure.
"The congressman comes from a prominent family and has been afforded the best education that a lot in our society has not," Hawkins wrote. "I am asking that you do the right by his constituents and treat him as you would any other person."
Sandi Jackson, meanwhile, has turned to family for support, ABC Chicago reports. According to Fox Chicago, several family members have called for probation for Sandi, saying someone needs to be around to look after the couple's young children.
(Read letters sent in support of Sandi Jackson.)
Letters were adressed to both Judge Robert Wilkins who oversaw Jackson's trial but later recused himself from sentencing, and Judge Amy Berman Jackson (no relation). Among the letters posted publicly late Tuesday by Judge Jackson was a crayon-scrawled plea from a Jackson relative. It was a simple six-word plea signed by "Tatiana, 5:"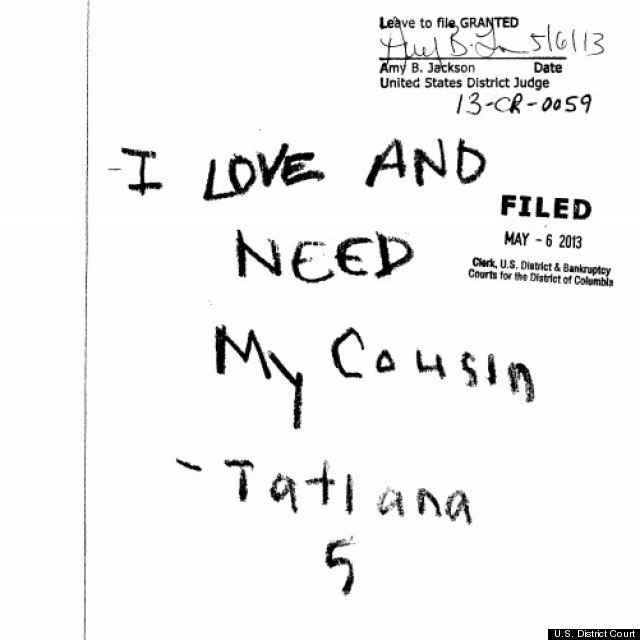 Jackson Jr, pleaded guilty in February to misusing more than $750,000 in campaign funds for lavish personal purchases, while Sandi Jackson pleaded to lesser charges of filing false tax returns.
Jackson Jr. faces 46 to 57 months in prison while Sandi could go away for one to two years. Both will be sentenced July 1.
BEFORE YOU GO
PHOTO GALLERY
Jesse Jackson Jr. Through The Years