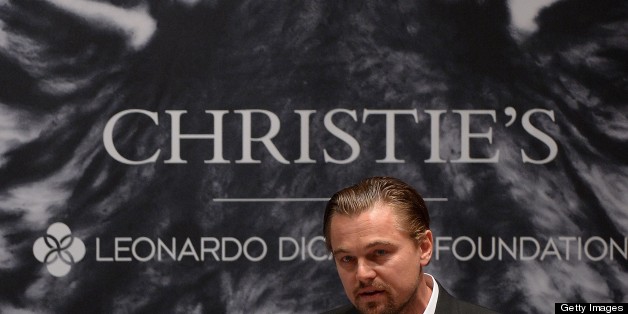 Even members of the press were dressed to kill, it was that kind of an affair. Long-necked women in high buns sat holding paddles alongside men in suits. Stage left, phone bidders manned calls from Russia, Italy, China, Germany. Salma Hayek, Toby Maguire, Bradley Cooper, and Mark Ruffalo all held paddles. At the front of the room stood Leonardo DiCaprio at the podium, saying these words: "Bid as if the fate of the planet depended on it."
It could easily have doubled as a scene from a contemporary art heist thriller, but last night's 11th Hour Auction was as unscripted as these things get. At one point during the charity event, a tan man with a cigarillo in hand jumped the bidding from $550,000 to $1 million, on an Elizabeth Peyton portrait of Leo himself. The action halted momentarily: there was a collective gasp followed by a wave of applause.
"It's not over yet, ladies and gentleman," said the auctioneer, the British-accented Jussi Pylkkänen. "Do I hear one million one?"
In the wings, a telephone bidder thought she might have something, then realized she didn't. "Sold!" to none other than "cigarillo man," as a Christie's employee later wonderingly referred to him (the Daily Beast IDed the winner this morning as pharmaceutical billionaire Stewart Rahr, aka "Stewie Rah Rah, the No. 1 King of all Fun"). He waved to the crowd imperiously. "We'll have your triumphal chariot waiting outside to bring you back to your hotel tonight," Pylkkänen joked.
In all, the auction helmed by Christie's and DiCaprio brought in a staggering $35 million, nearly twice the expected haul of $18 million. All proceeds are earmarked for the wildlife protection efforts of the Leonardo DiCaprio Foundation, which has worked to increase tigers in Nepal, and sharks in Asian waters, among other rapidly depleting animal populations.
In keeping with the night's theme, many of the works depicted wild, "beautiful things," as Pylkkänen repeatedly termed the painting's animal subjects, from Rob Pruitt's glittery panda, in 6:20 pm, late Summer, to Banksy's Protect from All Elements, an acrylic and enamel painting of an elephant strapped with a missile. DiCaprio solicited each of the 33 works himself from artists like Ed Ruscha, Julian Schnabel, Takashi Murakami and Raymond Pettibon.
At the night's end, Pylkkänen told the press he'd never seen a charity auction "with this sort of energy," saying it surpassed an auction he oversaw in London for Will Smith, celebrating Nelson Mandela's 90th birthday.
Last night's star contingent took part in the action too. For $250,000, Maguire took home a Sergej Jensen piece sewn -- appropriately enough, for DiCaprio's "Gatsby" costar -- from money bags. DiCaprio himself placed the winning bid of $700,000 on Murakami's Mononoke, a psychedilic acrylic whose motifs DiCaprio helped work on, according to Pylkkänen.
Christie's reported 13 world auction records for individual artists, the highest of which went to Mark Grotjahn. His colorful oil on cardboard Untitled sold for $6.51 million to none other than mega-gallerist Larry Gagosian (who happens to represent Grotjahn), after a spirited back-and-forth that ended in the underbidder proclaiming, to Pylkkänen's delight, "He won't break."
Another record-breaker, at $1.05 million: Peyton's Leonardo, thanks to the heroic efforts of the night's other star, "cigarillo man."
CORRECTION: An earlier version of this story misspelled Stewart Rahr's surname. We apologize for the error.