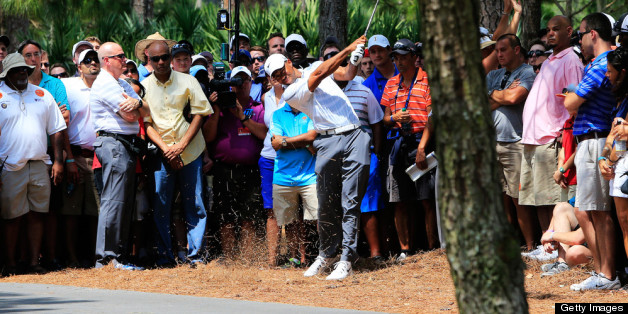 First, Sergio blamed Tiger. Then, Tiger told reporters that the course marshals gave him the green light. Later, two of the marshals at TPC Sawgrass suggested that Tiger lied about his interactions with them. Somewhere in the middle, Tiger Woods won The Players Championship.
Caught up?
Woods' 78th career PGA Tour win came stocked with drama. Woods overcame a double bogey on the back nine in the final round on Sunday and then benefited from Sergio Garcia's double splash on the iconic 17th hole at Sawgrass. A day earlier, Woods and Garcia traded barbs over an incident that occurred when they were paired together. The 33-year-old Spaniard claimed that his occasional rival negatively impacted his performance on the par-5 second hole on Saturday. Garcia claimed he was distracted during his backswing by crowd noise that Woods sparked.
"I wouldn't say he didn't see that I was ready, but you do have a feel when the other guy is going to hit," Garcia told NBC during a subsequent weather delay on Saturday, via Golfweek. "Right as I was on top of the backswing, he pulled a 5-wood or 3-wood out of the rough and, obviously, everybody started screaming, so that didn't help very much."
Woods told a different story when asked about the incident, saying he had been cleared by course marshals to prepare for his shot.
"The marshals, they told me he already hit, so I pulled a club and was getting ready to play my shot," Woods said on Saturday, via Doug Ferguson of The Associated Press.
Speaking with Michael Bamberger of Sports Illustrated on Sunday, two of the marshals later refuted Woods' account.
"He didn't ask us nothing, and we didn't say nothing," one of the marshals on the scene, Gary Anderson, told Bamberger. "We're told not to talk to the players."
Anderson's boss, John North, who was the chief marshal for the first three holes at The Players Stadium course, went even further in refuting Woods' claim, telling Bamburger that he was "disappointed" by remarks of the tournament's eventual winner.
"Nothing was said to us and we certainly said nothing to him," North told Sports Illustrated. "I was disappointed to hear him make those remarks. We're there to help the players and enhance the experience of the fans. He was saying what was good for him. It lacked character."
BEFORE YOU GO
PHOTO GALLERY
Best 2013 Sports Photos