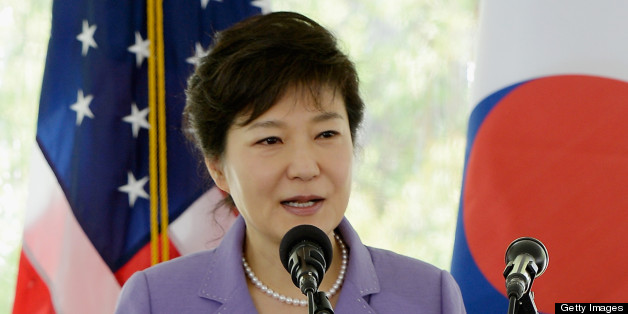 South Korean President Park Geun-Hye said Tuesday she wants talks with North Korea about removing raw materials and finished products from a joint industrial complex closed by military tensions.
In a cabinet meeting, Park instructed the Unification Ministry to offer Pyongyang discussions on the Kaesong complex, which lies 10 kilometres (six miles) inside the North Korean side of the border.
Established in 2004 as a rare symbol of inter-Korean cooperation, Kaesong was the most high-profile casualty of two months of elevated tensions that followed the North's nuclear test in February.
The North barred South Korean access to the zone and pulled out all its own 53,000 workers early last month. Seoul withdrew the last of its nationals 10 days ago.
When they left, officials from some 120 South Korean firms based in Kaesong loaded down cars with bundles of products, but were still forced to leave large stocks of goods behind.
"I want the Unification Ministry to propose talks with North Korea so that the firms can reduce losses by taking out finished products and raw materials, left behind at Kaesong, at an early date," Park told the cabinet meeting, according to a pool report.
The South's government announced Tuesday that it was providing a total of 300 billion won ($270 million) in insurance coverage, to be drawn from a 1.1 trillion won inter-Korean economic cooperation fund.
Each company will be entitled to receive a maximum of 7.0 billion won, or up to 90 percent of net assets lost, the Unification Ministry said.
The government has already provided 300 billion won in low-interest loans to the Kaesong companies to help them cope with immediate liquidity shortfalls.
Estimates of the total losses suffered by the South Korean firms in the zone range from 1.0 trillion to 3.0 trillion won.
The last group of South Koreans left Kaesong on May 3 after the South sent $13 million in cash to the North to cover unpaid wages and taxes.
Neither side has officially declared a permanent shutdown of Kaesong, with the South continuing to supply a minimum amount of electricity to the empty complex.
Pyongyang has said restarting the complex would require Seoul to cease all "hostile acts and military provocations" including joint military drills with Washington.
BEFORE YOU GO
PHOTO GALLERY
Park Geun-hye: South Korea's First Female President