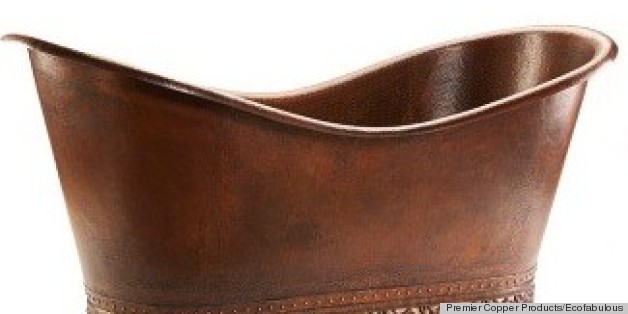 The Huffington Post is proud to present a story originally published by Ecofabulous.
Though they look like relics from a bygone era, there's nothing stodgy about the stylish sinks and hammered tubs by Premier Copper Products. You'll want to rethink going with a default stainless steel finish for your kitchen and bathroom accessories after perusing the company's extensive collection, which includes faucets, tiles and lighting in addition to their standout sinks and tubs.
There's a rustic, romantic quality to the copper creations, a welcome change from the hyper-modern, cold design features on the market. Adding instant warmth to any room, the hand crafted products are ethically made by artisans in Mexico using the most durable materials. While other metals rust and degenerate over time, inevitably forcing you to replace them, copper's patina protects it from decay and lends it to endless recyclability. What's more, Premiere's collection has been made from reclaimed, grade A copper wire that has been recycled into copper sheet, making them doubly green. Needless to say, they shimmer and shine even more in our eyes.