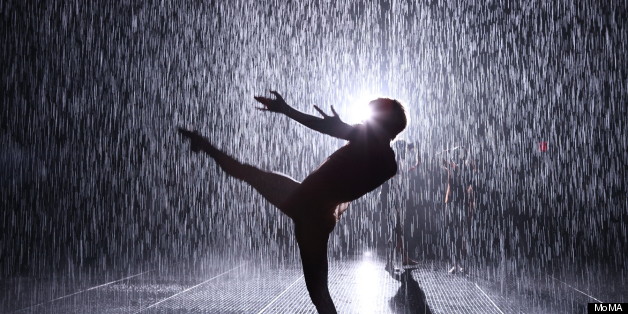 We never thought we'd have the opportunity to actually say "Make it rain," let alone in a reputable museum. But this isn't the only one reason we are bursting with excitement for Random International's Rain Room installation at the Museum of Modern Art in New York, which is causing a stir -- and a very long line.
The surreal, interactive exhibition, a part of MoMA PS1's "EXPO 1: New York" series, takes over an adjacent lot next to the museum, giving viewers the chance to control the weather. The falling water pauses when it detects a body in movement below, although viewers will see a sheet of rain in front of and behind them, depending on how many people occupy the space.
How did the artist's achieve such a feat? Well...they're not telling. "We're being deliberately obscure about the details," Random International's Hannes Koch told New York Magazine. Koch did reveal, however, that the room is full of 3D cameras that deliver information to the controls in real time.
Only 10 people are allowed to be in the room at a given time to get the best results. (Warning: If you move too quickly, you will get wet.)
Last week during a preview of the installation, dancers from Wayne McGregor | Random Dance performed in the slippery space. See stunning images from the happening in the slideshow below.