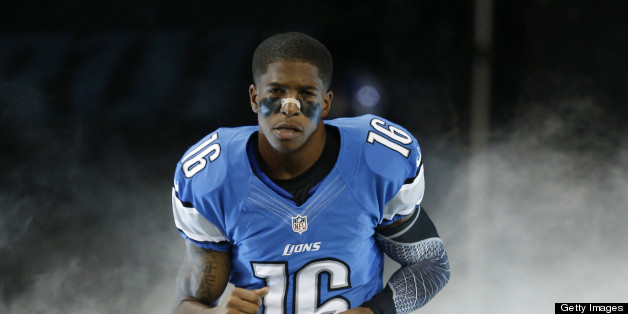 The father of former Detroit Lions wide receiver Titus Young believes that his son's recent arrests are the result of a brain disorder that may have been exacerbated by a concussion.
Richard Young spoke with The Detroit News and Detroit Free Press on Monday and claimed that his 23-year-old son needs treatment.
"I hope they just forgive Titus because this ain't none of Titus, it wasn't none of his fault," Richard Young told The Detroit Free Press. "I look at my son right now, I don't see my son. That's not my son. I know my son. Titus is not the boy I really raised, I'm saying the way he act, the way he intermix in society right now. He shut down, he look through you, it's like he's depressed. He don't like to watch TV, he don't like to get involved with music that much. And these are the things that you've got to know what's going on in the world. Cause we in the world, you've got to have a relationship with the world. You've got to deal with people. I don't know, but we've been trying to get him help."
The elder Young told The Detroit News that his son's disorder -- which he could not recall the name of -- is a result of his brain being compressed in the front of the skull. Richard told both The Detroit News and Detroit Free Press that he believed some of his son's apparent instability stemmed from a concussion. Richard also told the Free Press that his son had previously been prescribed Seroquel, an antipsychotic drug.
"He's not dealing with it the way he should be," Richard Young said of his son's condition to The Detroit News. "If the judge gives him a court order, then maybe he'll get the help he needs."
A second round pick of the Detroit Lions in 2011 NFL Draft, Young was arrested twice in the span of just 15 hours in Riverside County, Calif. on Sunday, May 5 on suspicion of driving under the influence and then attempting to remove his car from a tow yard. He was then arrested again on Friday, May 10 in San Clemente, Calif. after he allegedly broke into a home. He was charged with attempted burglary, assaulting a police officer and resisting arrest.
Young was released by the Lions early in the offseason after a tumultuous year with the team, which included punching a teammate back in May 2012 and getting sent home twice during the regular season.
"A guy like Titus, I hear people say his career is over. Well first of all, it's really not about his career right now, it's about his life,'' Chicago Bears wide receiver Brandon Marshall, who has been open about his own personality disorder, said during an interview with ESPN's "NFL Live" on Monday.
BEFORE YOU GO
PHOTO GALLERY
Best 2013 Sports Photos