This is seriously getting ridiculous. Just yesterday we wrote about Pakistani designer Aamna Aqeel's "Be My Slave" photo shoot, which showed a white model being waited on by a small black boy, and now we've just learned that the store Zara apparently thinks slavery is trendy too.
Huff Post blogger and culture critic/DJ/visual artist, Amanda Seales, brought our attention to a Zara necklace adorned with both gold faces and dark black faces with bright red lips that closely resemble slave and other historically racial-insensitive figures. The international clothing company is known for producing trendy clothes that mirror those seen on the high fashion runway, which is why we're pretty sure we know the source of inspiration for this tasteless bauble--Dolce and Gabbana's Spring 2013 collection. Remember the Italian label's Blackamoor-inspired pieces that caused quite a stir?
Seales tweeted a photo on Tuesday afternoon of the necklace she found at Zara's 42nd Street and 5th Avenue location in New York City:
I see racism continues to be "fashionable".Ya'll know I love me some Zara but this is no dice!!! instagram.com/p/ZTcn9Bo6zT/

— Amanda Seales (@amandaseales) May 14, 2013
PHOTO: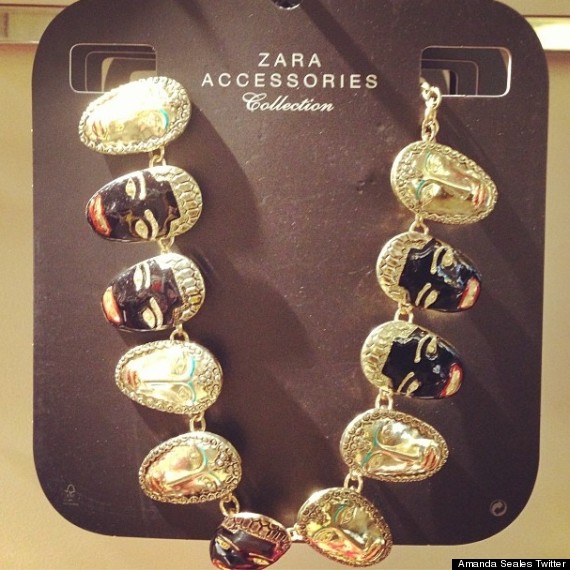 Can't say we're surprised--we're well aware that racism is still alive and well. But we're left with a few important questions:
1. WTF?
2. Why?
3. Seriously?
Ironically (and sadly) Zara is dealing with another slave debacle--an investigation over the alleged use of slave labor in Argentina. We reached out to the company for comment in regards to the necklace at the time of publishing this post. We'll let you know if we hear back.
BEFORE YOU GO
PHOTO GALLERY
Instances of Accidental Racism