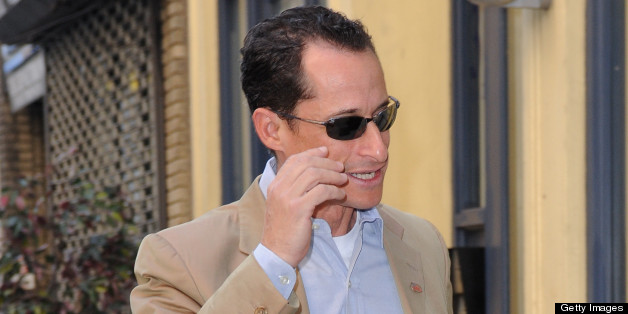 Disgraced former Rep. Anthony Weiner on Wednesday morning said it will be a "matter of days, not months" before he announces whether he is running for mayor of New York City.
"I definitely have to decide soon," Weiner said, speaking outside his Manhattan home and office on Park Avenue South. "People have a right to be skeptical, and hopefully if I run, they'll get a chance to judge me based on the issues."
The Democrat, who is polling second in the mayor's race behind City Council Speaker Christine Quinn, said he is having no trouble attracting interest in his campaign, "that's for sure."
Weiner, 48, has been largely under the radar since a Twitter scandal cost him his congressional career in 2011. He was forced to resign after he posted a lewd photo of himself to his Twitter account and was caught lying that the account had been hacked. Weiner, who is married with a son, also admitted to inappropriate exchanges of texts and photos with six women.
He wouldn't say Wednesday whether he had begun staffing his mayoral campaign, but published reports said he has hired Danny Kedem, former Democratic Congressional Campaign Committee adviser to Mark Murphy, to lead the team as campaign manager. Kedem could not be reached for comment Wednesday morning.
Weiner began returning slowly to the spotlight last month, first in a candid profile in The New York Times Magazine and then by creating a new Twitter handle and profile. The account, @anthonyweiner, has so far been used mostly to tout his 20-page political statement, "Keys to the City: 64 Ideas to Keep New York City the Capital of the Middle Class."
Last month, a Marist Poll showed the disgraced former congressman would be Democratic voters' second choice for mayor of New York City, after Quinn, if he entered the race. He polled at 15 percent, following Quinn at 26 percent.
A Quinnipiac University poll that also included Weiner last month similarly showed he would receive 15 percent support, second only to Quinn at 28 percent.
The New York Times Magazine profile painted Weiner as a family man to his wife, Huma Abedin, a former aide to Hillary Clinton, and his toddler son, Jordan. Since the scandal, he has moved from his home in Forest Hills, Queens, to one on Manhattan's Park Avenue South, where he is working as a consultant.
Weiner's planned political comeback has lately been compared to that of former South Carolina Gov. Mark Sanford, a Republican who fell from grace in 2009 after admitting to an extramarital affair but who earlier this month won a congressional seat in a special election.
BEFORE YOU GO
PHOTO GALLERY
2013 NYC Mayoral Candidates