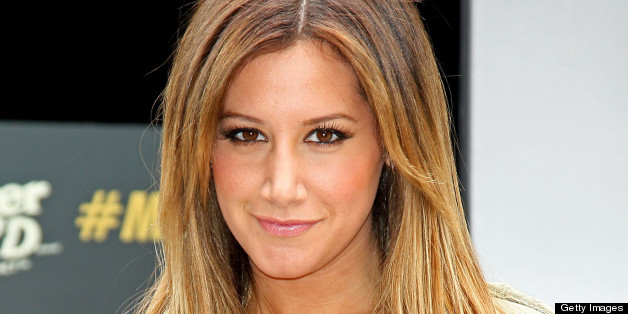 These days, our knowledge of celebrities too often originates with paparazzi images and snarky quotes by anonymous "insiders." After a while, it's easy to forget that stars are real people. That's why HuffPost Celebrity decided to launch its all-new #nofilter quick-fire question-and-answer series. Because how well do you know someone until they've shared their guiltiest pleasures?
Ashley Tisdale won over everyone's hearts starring alongside Vanessa Hudgens and Zac Efron in 2006's "High School Musical." But the now 27-year-old actress has ditched her Disney days for a more mature career, recently appearing in "Scary Movie 5" and covering the pages of Maxim magazine.
Tisdale helped Frito-Lay celebrate its brand-new product Cracker Jack'D on May 15 in New York City and chatted with HuffPost Celebrity about everything from her guilty pleasure to her go-to snack. Plus, she revealed her diet and workout secrets for bikini season and opened up about her feelings on sideboob. Yes, sideboob.
So, are you a big snacker?
I'm someone who's always on the go and crazy busy, so I like to keep snacks in my car and at the office and Cracker Jack'd is a really yummy snack that I love. I definitely am a big snacker.
What's your favorite Cracker Jack'd flavor?
My favorite flavor is the Chocolate Peanut Butter.
What's the first thing you reach for when you're hungry?
It depends, but something chocolatey. If I want to eat something a little bit healthier, maybe apples or fruit or carrots. It's all about having a balance.
What's your guilty pleasure?
Coffee! In the morning hot, but at the end of the day, iced.
What's one item that's always in your refrigerator?
I like to have almond milk, so that I'll have with cereal. I like peanut butter, I have that in my fridge. Salad, since I like to make salads sometimes.
When it comes to bikini season, how do you get in, or stay in, shape?
For me, I just like to cut out bread. I like to keep the good carbs in my diet -- I love pasta and Italian food -- but I try to eat just that on the weekends and cut out carbs during the week.
What kind of workouts do you like to do?
I work out with my trainer Harley Pasternak and we do a lot of light-weight training and cardio. But I'll also do yoga and maybe a spin class every once in a while.
What's your summer style like? Are you a fan of short shorts?
I love sundresses and I love shorts.
We saw you in Maxim recently -- what was it like posing topless?
I don't really look at it as bad, but it was really fun and it was definitely a different experience. I'm really proud of what I do and how I work out and so I thought it was perfect for the movie that I just had come out, "Scary Movie." Because I feel like it's definitely for an older audience and I've grown up, you know, I'm 27 now and so I feel like the magazine really portrayed that to my fans.
What do you think about this new sideboob trend?
Every day ... I don't really do sideboob! [laughs] When I'm going to an event or a premiere, I like to be crafty. Actually one of my favorite dresses that I've ever worn was at the Golden Globes party and the sides were cut out, but it was still super-classy and it kind of reminded me of a Calvin Klein-esque dress. I'm never like, "Oooh, I need sideboob." That's really weird.
But obviously in the Maxim photo shoot, I'm very proud that I didn't do something that they've done all the time, like the lingerie thing. I really was excited that I kind of got to just be myself and I wore more bathing suits and I had that tank top, so there was some side[boob], but it was cool to be able to kind of have my style with the leather jackets and bathing suits rather than lingerie.
What's the dumbest thing you've read about yourself?
I'm sure there's tons and tons of stuff out there. I don't really read stuff on myself. I like to just kind of stay away … I don't get too involved in that.
Do you ever snoop in your friends' medicine cabinets/drawers when you're over?
My God, no! That's so creepy! Umm, that's so weird … I don't think I've ever done that.
What movie could you watch over and over?
Probably "Bridesmaids." I cannot stop laughing.
What shows are always on your DVR?
Anything from Bravo. I love "The Walking Dead," and "Sons of Anarchy" and then also "American Horror Story," I'm a big fan of those.
BEFORE YOU GO
PHOTO GALLERY
They said WHAT? #nofilter