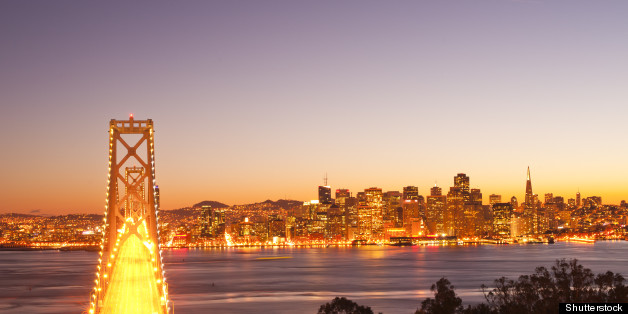 SAN FRANCISCO -- The late rapper Notorious B.I.G. may have been have hailed from New York, but his immortal maxim, "mo' money, mo' problems" has surfaced in the Golden State.
Earlier this week, California Gov. Jerry Brown unveiled his revised budget plan for the fiscal year that begins in July. It reaffirmed something that many in government have been predicting for some months: the state may be headed for a multi-billion dollar budget surplus resulting from the rebounding economy and a tax hike approved by voters last November.
The notoriously cash-strapped state spending less than it takes in hasn't occurred in more than a decade. Unsurprisingly, a lot of people have a lot of different ideas about how that money should be used -- from restoring government programs slashed from years of budget cuts to paying down the massive collection of debt obligations that the Los Angeles Times called a $28 billion cloud hanging over the state's future.
Though much of the surplus could be automatically diverted into the state's public education system, that hasn't stopped some in Sacramento from drawing up their own wish lists for what to do with the additional revenue.
Assembly Speaker John Perez (D-Los Angeles) said last week that his spending priorities include putting more money toward child care for poor families and providing increased financial assistance to college-bound Californians. "It's about responsibility," Perez told the Associated Press. "It's not about walking away from our obligations."
Other suggestions proffered by Democrats have included increased spending for the state's low-income Medicaid welfare program MediCal, reversing some of the deep cuts that have devastated the state's court system and increasing funding to job training programs. Some of these ideas were incorporated into the spending portion of the budget Brown made public on Tuesday.
Because Democrats hold supermajorities in both houses of the state legislature, not to mention a recent legal shift allowing the passage of a budget with a simple majority, the California GOP has been almost entirely shut out of the process.
Staying true to his public image as a voice of fiscal restraint Brown urged, well, fiscal restraint.
"Everybody wants to see more spending -- that's what this place is, it's a big spending machine," said the governor at a press conference in Sacramento earlier this week. "But I'm the backstop."
"It's not time to break out the champagne," he added.
That doesn't mean the administration is content to just stick the surplus in the bank and be done with it.
"Brown wants to use lot of this money for his new school funding program, where more money would be targeted toward schools in impoverished areas and with large percentages of non-English speakers, but a lot of members of the legislature don't seem to keen on this," San Jose State political science professor Larry Gerston said. What may ultimately happen is a compromise, with the governor agreeing to kick in some money for legislators' favored programs in exchange for getting more funding for schools, he said.
However, Gerson told HuffPost he's unsure this surplus will materialize. "California has a long history of promising surpluses that never actually come to be because predicting government income in our state is notoriously difficult," he explained. "When 75 percent of our revenues come from from a single [income] tax that primarily falls on high earners, one bump in the economy and your projection could be off by billions of dollars."
Gerston said he doesn't see as politically likely using the money to pay down any of the state's long-term debt obligations with anything more than a token contribution, even though the release of the original surplus projection in January is what triggered Standard & Poor's to boost California's credit rating.
The California legislature has until June 15 to approve Brown's budget.
BEFORE YOU GO
PHOTO GALLERY
California Problems