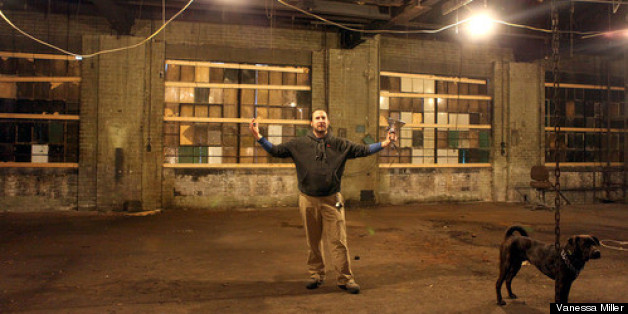 Artists and others involved with a migrating Detroit arts project are completely geeked about their new space in Detroit's Woodbridge neighborhood. Each year, the Community Arts Moving Projects (CAMP) program provides artists and makers with studio room to create beautiful and mind-bending creations for display at Detroit's Movement Electronic Music Festival. Besides space, the organization also supports artists with a stipend, technical resources for their projects and marketing support. CAMP was developed three years ago by Paxahau Event Productions, The Detroit Creative Corridor Center and artist-entrepreneurs Vanessa Miller and Melinda Anderson. After the festival ends, those art projects are relocated into Detroit neighborhoods.
For this year's headquarters, the CAMP team will be using an old machine shop donated by Jim Geary, owner of the Woodbridge Pub, a popular Detroit watering hole. The space is located just a few doors away from his tavern. In exchange for the temporary use of the digs, they've agreed to clean it up, paint its windows and do their part to beautify the neighborhood.
"The entire CAMP team is pumped to have the opportunity to participate in such an awesome cause," read a post on the organization's Tumblr page. "Our studio space for now, but who knows what for the future, a restaurant, arcade, coffee shop? It'll feel great to know that we played a small part in the growth of business in this city."
This week, Geary and members of the CAMP crew hooked up electricity at the old shop and turned on the lights for the first time in more than a decade (SEE PHOTO ABOVE). Now they're ready to work, with some pretty exciting projects on the way for Movement, which takes place during Memorial Day weekend later this month.
These works include a 20-foot sculpture of ascending linear cubes, a shifting visual installation designed to play with people's sense of sight and the Bloom Box, a vertical garden designed to resemble a 90's-era boom box.
Geary also owns a space across the street from the Woodbridge Pub that houses a community garden and a building that is being converted into a boutique bike shop.
BEFORE YOU GO
PHOTO GALLERY
CAMP Detroit Brings Art Installations To 2013 Movement Electronic Music Fest