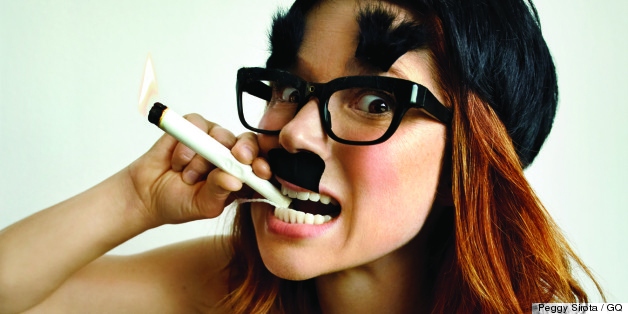 Ellie Kemper has a simple question: "Can men be funny?"
The 33-year-old actress and comedian, who currently stars in "The Office," expounds on this query in a satirical essay in GQ's June Comedy issue. Adam Carolla, Jerry Lewis and Christopher Hitchens, eat your hearts out.
Kemper is confused about why she doesn't find the male species to be all that hilarious:
I can't exactly figure this out. Men, who certainly possess not only the savvy but also the know-how to be funny, for some reason, are just not. I began to notice this at a pretty young age, and unfortunately, a lifetime of living -- and not a little bit of regret -- hasn't done much to convince me otherwise. Why do they even try? my 7-year-old self would wonder as I watched Alan Alda flounder helplessly through yet another failed rerun of "M*A*S*H." Why is every single Korean-lady extra so much funnier than he is?
Probably because ladies are just genetically predisposed to a life of humor! Kemper expounds:
We women, with our sumptuous breasts and our shapely hips, have to be funny in order literally to survive. Our curves render us useless for just about anything except cracking wise and quip-firing. Sometimes our breasts are so big that we actually can't move; we have no choice but to sit very still in one place and come up with joke after joke. Sometimes -- though rare -- our hips are so wide, that we physically cannot fit through the exit door of the comedy club that our office co-workers dragged us to after happy hour. So the only option available to us is to stay inside the comedy club, absorbing comedy act after comedy act, and in so doing, completing the full transformation from comedy student to comedy master.
Kemper's essay not only makes us laugh out loud but also puts into stark perspective how ridiculous the questions "Are men funny?" "Are women funny?" and "Is one gender funnier than the other?" are in the first place.
Unfortunately, as The Cut's Kat Stoeffel points out, many of GQ's male commenters don't seem to realize that Kemper's essay is, in fact, satire. Sigh.. dudes have no sense of humor.
To read Kemper's full essay, click over to GQ.
BEFORE YOU GO
PHOTO GALLERY
The Office Season 9 Photos