Visitors attempting to catch site of Hong Kong's massive floating sculpture, "Rubber Duck," were greeted by a less than pleasant site this week. The inflatable artwork imagined by Dutch artist Florentijn Hofman deflated in the city's harbor, leaving a lifeless, yellow carcass where a 54-foot duck once was.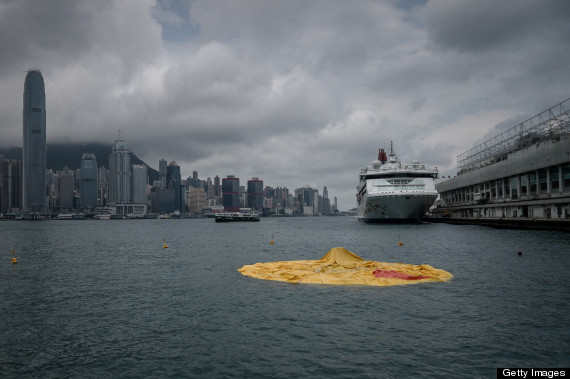 (PHILIPPE LOPEZ/AFP/Getty Images)
According to The South China Morning Post, the duck's deflation is only temporary, and organizers of the Victoria Harbor art display assured fans on its Facebook and Twitter pages that the duck is simply undergoing maintenance. "The Rubber Duck needs to freshen up. Stay tuned for its return," read the notifications.
The Rubber Duck needs to freshen up. Stay tuned for its return. twitter.com/hkharbourcity/…

— Harbour City (@hkharbourcity) May 14, 2013
Nonetheless, toursits and Hong Kong residents were not so pleased with the duck's abrupt departure. "The sky looks like it is crying for me -- I took time off from work just to see the duck, now it is just a blob," Mirinna Chan, a 45-year-old clerk, told Agence France-Presse. "It's really our childhood dream, because when we bathed as children, we would have one or two of the rubber ducks next to us."
The duck has garnered a lot of attention since its May 2 debut, so it's no surprise that its deflation sparked some hilarious responses. CNN likened the sculpture's new appearance to "an unappetizing fried egg," while a blogger by the name of Hong Wrong wrote that the giant artwork "finally succumbed to HK's pollution and met its grizzly demise."
While we wait for the bird's triumphant return, scroll through the photos below for a look at the giant Rubber Duck in its prime. Let us know what you think of the deflation debacle in the comments. How does it stack up to Paul McCarthy's inflatable mess that happened there only weeks earlier?
PHOTO GALLERY
Rubber Duck
BEFORE YOU GO