 Looks like Ryan Gosling might have some competition when it comes to being Detroit's biggest heartthrob.
Actor Matt Smith ("Doctor Who"), who stars in "How to Catch a Monster," was photographed showing off some newly-ripped muscles in the city. The film is Gosling's directorial debut and is being shot around town.
The 30-year-old British actor credits a new workout plan for his sculpted chest and abs. (Scroll down for more photos.)
He's also shaved his head to play the male lead in "How To Catch A Monster," which is Smith's first time starring in a U.S. film. Also cast are "Mad Men's" Christina Hendricks, Gosling's girlfriend Eva Mendes and the young Saoirse Ronan.
Smith is photographed singing (we wish we knew what!) into a microphone from the back of a lowrider automobile. We're wondering what Gosling's directions were -- and which song will make its way into the film.
His own shirtless photos might bring his some new fans, but that doesn't mean Smith is immune to admiring his coworker's abs. In a recent issue of Total Film magazine, where Smith was asked whether his admiration of Gosling extended into man crush territory, he answered, "I would have no idea, but obviously I have admired his abdominals in 'Crazy Stupid Love.' Yes, he's a very handsome man, that's for sure."
Imitation is truly the sincerest form of flattery!
Photographer Bananadoc (check him out on Twitter) visited the set and met Smith on May 13 in Detroit. He told The Huffington Post that he and his daughter drove past the actors, who were filming this scene in an abandoned lot by the Chrysler Freeway. Bananadoc said he watched Smith screaming into a microphone from the car. "Looks like he is some kind of leader in a dystopian landscape!" he said.
"When the scene was over, we approached the crew and they very kindly had Matt come over to us," he added. "My daughter is still floating. Matt Smith is a super nice guy."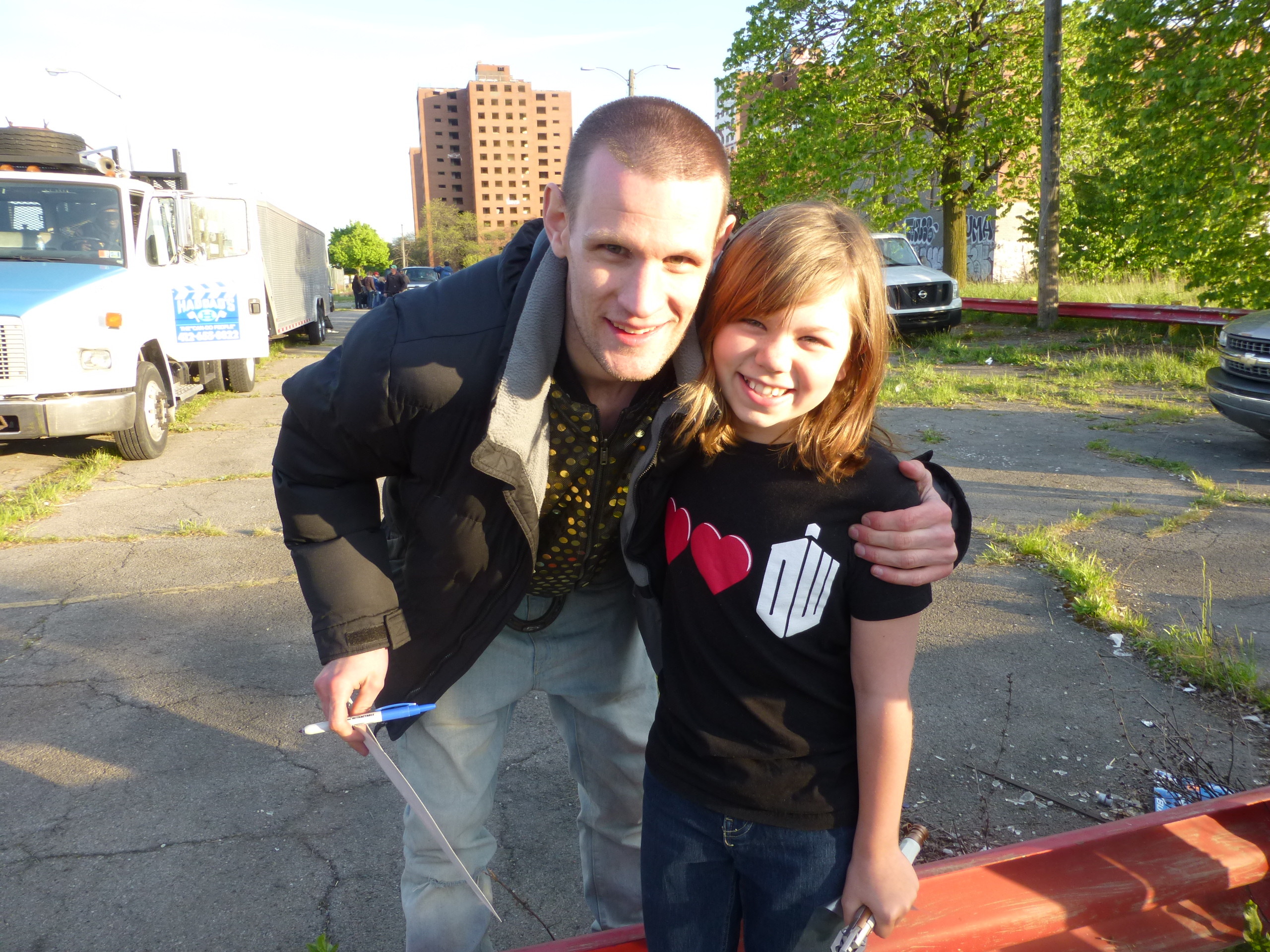 Check out our slideshow featuring more photos of Ryan Gosling and the film in Detroit, as well as more gratuitous Gosling pics. Seen any of the cast around town? We want your photos. Tweet us at @HuffPostDetroit or email the HuffPost Detroit editors.
BEFORE YOU GO
PHOTO GALLERY
"How To Catch A Monster" Photos And Ryan Gosling Pics