The same jury that convicted Jodi Arias of first-degree murder will begin hearing testimony Wednesday in the aggravation phase of the case -- a proceeding that will decide if the 32-year-old woman will be sent to the death chamber.
The defense and prosecution will present opposing arguments about whether Arias killed her ex-boyfriend Travis Alexander in an "especially heinous, cruel or depraved manner."
Jurors must determine whether Alexander suffered physical or mental anguish during his slaying and whether or not Arias was aware of the pain she was causing him.
During the trial the prosecutor presented gruesome evidence and testimony that he said proved Arias premeditated the killing of Travis Alexander.
The defense tried to convince the jury that Arias was a victim of domestic violence and killed Alexander in self-defense. They wanted the jury to acquit Arias or find her guilty of a lesser charge, such as manslaughter.
Arias, 32, stood accused of stabbing 30-year-old Alexander nearly 30 times, shooting him in the head and cutting his throat from ear to ear in his Mesa home on June 4, 2008.
The jury of eight men and four women heard four months of testimony in the case for 19 weeks and deliberated about 15 hours before returning the guilty verdict on May 8.
During the penalty phase of the trial, lawyers will likely present evidence that wasn't allowed to be presented to the jury before the verdict.
Alternatives to the death penalty are life in prison with a chance of release after 25 years -- or a life sentence without parole.
A unanimous decision is required to impose the death penalty.
The sentencing phase is expected to include testimony from the medical examiner who performed Alexander's autopsy. The defense will likely call witnesses who can humanize Arias, including possibly members of her family
After hearing testimony from both sides, the jury will recommend a sentence to Judge Sherry Stephens. If the jury deadlocks, sentencing could revert to the judge, who would have the option of sentencing Arias to life without parole or life with the possibility of parole after 25 years.
On May 8, Arias told FOX-10 Phoenix that she prefers the death penalty over a sentence of life in prison. Arias said she would "prefer to die sooner than later" and described death as "the ultimate freedom." She has since been placed under suicide watch.
Friends of the man Arias murdered think her interview shows that she's up to her old deceitful tricks.
"There are three things we know with certainty about Jodi Arias. 1- She lies, 2- She lies, and 3- She lies. This is not up for debate, it's what she does," Chris Hughes, a close friends of Alexander's at the time of his death, told The Huffington Post.
Dave Hall, another close friend of Alexander's who has been vocal about his feelings since the verdict came down, has a similar take. "I think Jodi Arias loves herself too much to actually want that," he told HuffPost.
The trial is scheduled to resume at 1 p.m. Eastern time.
Read below for minute-by-minute updates from court Wednesday:
05/15/2013 6:09 PM EDT
Arias Will Now Face The Possibility Of Death
Court in recess until tomorrow at 1:30 p.m. Eastern time.
05/15/2013 6:08 PM EDT
Aggravating Factor Met
The jury found aggravating factor for cruelty was met.
05/15/2013 6:06 PM EDT
In Session
Court is in session.
05/15/2013 6:03 PM EDT
The Verdict Is In
We are waiting for court to reconvene.
05/15/2013 3:15 PM EDT
Recess
Court is in recess pending the completion of jury deliberations.
05/15/2013 3:09 PM EDT
Sidebar
The attorneys are at a sidebar with the judge.
05/15/2013 3:09 PM EDT
Deliberations Have Started
The jury is now deliberating on whether aggravating factors exist for the death penalty to be considered.
05/15/2013 3:07 PM EDT
On The Instructions:
Judge Stephens is going over the instructions with the jury again.
05/15/2013 3:07 PM EDT
'Mr. Alexander Suffered Immensely'
"Mr. Alexander suffered immensely," Martinez said. He has finished his redirect.
05/15/2013 3:06 PM EDT
Nurmi Does Not Look Happy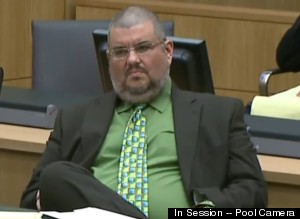 The Huffington Post is live blogging Wednesday's testimony. Check back here for updates.
BEFORE YOU GO
PHOTO GALLERY
Jodi Arias Timeline