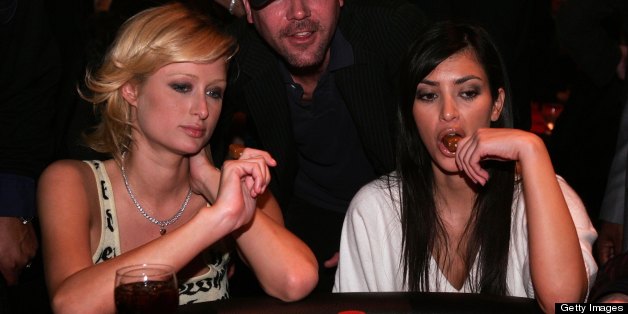 It's no secret that Paris Hilton and Kim Kardashian aren't BFFs anymore, but with the power of the Internet, we here at HuffPost Celebrity believe we can pinpoint exactly when their friendship ended.
Hilton and Kardashian had been besties since childhood, and Kardashian came along for the ride, posing in paparazzi photos once Hilton found fame with the release of her sex tape and reality show.
For years, Paris was the tabloid queen, but the release of Kim's own sex tape and the debut of "Keeping Up With the Kardashians" in 2007 marked the beginning of the end of Hilton's reign and their friendship. As people began to tire of coverage of Hilton, which was more than evident with the release of Us Weekly's first "100% Paris-Free" issue in June of that year, Kardashian was primed to usurp her throne.
As Kim shot to fame, Paris took shots at her. In 2008, the hotel heiress said that she wouldn't want Kim's butt, calling it "gross" and adding, "It reminds me of cottage cheese inside a big trash bag." And while the two kissed and made up for the cameras, their friendship was never the same.
The two were last publicly photographed together during fashion week in February 2009, and our best guess is that the friendship was officially dead by August 2009. That's the first time there were more people searching Google for news about Kim than Paris -- a trend that continues to this day.
The loss of the tabloid crown was clearly a sore spot for Hilton, who actually walked off the set of an interview with "Good Morning America" in 2011 after she was asked if she worried that Kim Kardashian was overshadowing her:
"No, not at all," Hilton said, only to abruptly end the interview when asked "Do you worry about your moment having passed?"
There's no denying that Paris' moment has passed, just as Kim's will likely one day come to an end. And perhaps when that day comes, two has-beens can be friends once again.
PHOTO GALLERY
Remembering Paris & Kim's Friendship
BEFORE YOU GO