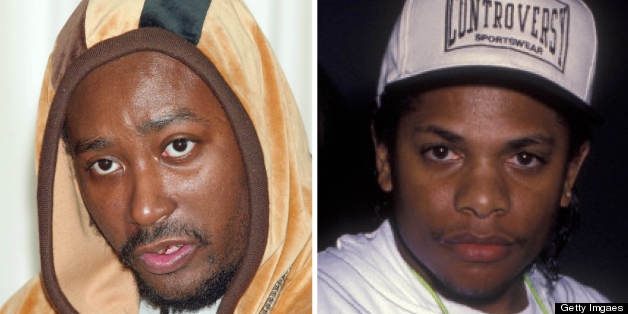 Those with a longing to see Ol' Dirty Bastard and Eazy-E take the stage once again are in luck. The two rap legends will be resurrected via hologram on the upcoming Rock the Bells tour.
ODB's and Eazy-E's reimaginings follow in the postmortem footsteps of Tupac Shakur, whose virtual likeness joined Dr. Dre and Snoop Dogg onstage at 2012's Coachella festival. That appearance launched a frenzy surrounding what many thought would become a prominent trend in the entertainment industry. The fad, however, hasn't proliferated as much as expected, although it has stretched outside of the hip-hop community and into classic Hollywood: Marilyn Monroe received her own hologram during a tribute show last year.
On the music front, Lisa "Left Eye" Lopes will reportedly join TLC via hologram on the group's upcoming reunion tour. Usher's fans, meanwhile, have also been subjected to the digitized treatment -- even though they're still very much alive.
ODB, who died of an accidental overdose in 2004, will return to the stage with his old group Wu-Tang Clan, while Eazy-E, who in 1995 died of complications from AIDS, will reappear with Bone Thugs-n-Harmony.
Looking beyond the holograms, Rock the Bells' lineup boasts an all-star hip-hop slate that also includes Big K.R.I.T., Common, Earl Sweatshirt, Juicy J, Jurassic 5, Kid Cudi and Tyler the Creator. The tour will travel to four cities throughout September and early October: San Bernardino, Calif., Mountain View, Calif., Washington, D.C., and Rutherford, N.J.
BEFORE YOU GO
PHOTO GALLERY
Tupac Coachella