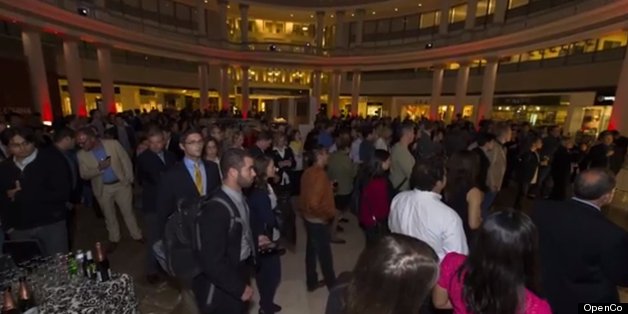 Revolutionary companies like Google are helping make information more accessible, but it seems that for the general public, the doors to those very companies remain closed. Most people know how Twitter works, but how many know how Twitter employees work? A new conference series aims to give people insider access to these innovative companies.
OpenCo, started by entrepreneur and writer John Battelle and marketing executive Brian Monahan, turns the popular conference formula inside-out. Instead of having various industry leaders gather in a hotel ballroom to give canned speeches to a paying audience, participating OpenCo companies (dubbed HostCos) open their offices to the general public in an effort to create a collaborative community of mission-driven companies all operating within a city's ecosystem. Job seekers, industry competitors and curious neighbors can all attend the sessions -- for free -- to witness the ambiance and daily routine of companies like Twitter, Yahoo!, AirBnb and Etsy.
"Think of all of the mission-driven companies trying to change the world for good," Battelle said. "We want to create an open network and open collaboration between them. OpenCo's mission is to create a platform for that community to thrive."
All of the events take place in the participating companies' offices, where CEOs or other executives speak about topics like the mission of the business, its core values and what it means to be a member of the community. HostCos come from a variety of industries -- from technology and media to restaurants and nonprofits. OpenCo is also supported by an advisory council that boasts a wide variety of industry leaders, including Ron Conway from Angel Investors, Morgan Spurlock from Warrior-Poets, and Arianna Huffington, president and editor-in-chief of The Huffington Post.
A successful OpenCo trial run in San Francisco in the fall of 2012 seemed to confirm the conference idea's viability. Hundreds of companies applied to be HostCos, though Battelle and his team had to limit the number to 85 because of resource constraints. More than 2,000 people registered and attended session. Mayor Edwin Lee is already enthusiastic about the 2013 iteration this October, Battelle said.
Building off the successful San Francisco event, the OpenCo team has scheduled conferences this year in London, Detroit, in New York City. There will also be a second run in San Francisco. The New York event takes place from May 22-23, and will feature 133 HostCos -- including Etsy, Foursquare, TED, Mashable and Yahoo. Participants use a "picker application" to select which sessions they would like to attend, with first preference given to those willing to pay for a "Reserved" or "VIP Backstage" pass.
The idea for OpenCo came out of the frustration Battelle and Monahan felt when reflecting on the current state of business conferences, especially those in the tech industry. It was no longer satisfactory to charge attendees to sit in a room for several days, listening to CEOs who hopefully say something interesting, explained Battelle. "That model has been tried and tested for many, many years." And as someone who had created similar events, Battelle saw himself "as much to blame as anyone," he said.
So they decided to shake things up. When looking for the common thread between disruptive companies operating today, Battelle said one cultural characteristic stood out. "The companies that are disrupting all had a rough, loosely shared set of values," he said. "But if you had to put one stake in the ground about those values, it would be open. They are are open to new ideas and open to collaborating. They have open-minded people and big, open architecture. This kind of approach to doing business was changing the world."
Jay Nath, the chief innovation officer for the San Francisco mayor's office, praised the 2012 festival for building cohesion in the startup and technology community, while also connecting those industries to local government. "When I think of OpenCo, it's a celebration of the people building great companies and helping to make a great city," Nath said. "It created another layer of understanding about the different organizations and companies doing innovative work, and the impact of those companies on our economy, our culture, and our society."
But the open, amorphous -- or polymorphic, rather -- structure also means that each session will offer participants something different, and it may be difficult to identify concrete results. Eric Wilhelm, founder of Instructables, an online platform for sharing engineering projects, recalls that their session as a HostCo "had no impact on our business, and I simply ad-libbed and answered questions for an hour." Nevertheless, the relatively small time commitment and convenience made it a cost-effective way to reach potential employees, clients and others in the community, said Christy Canida, a senior manager at Instructables. "Being part of the OpenCo conference was dead easy, and was a pleasant, low-key way to give back to San Francisco and the entrepreneurial community," Canida said.
Battelle said he sees the festival as an important step for the entrepreneurial and business communities, and hopes the success will continue on the East Coast and abroad. "When you get a lot of people excited about innovative companies and connecting people, good things happen," he said.
BEFORE YOU GO