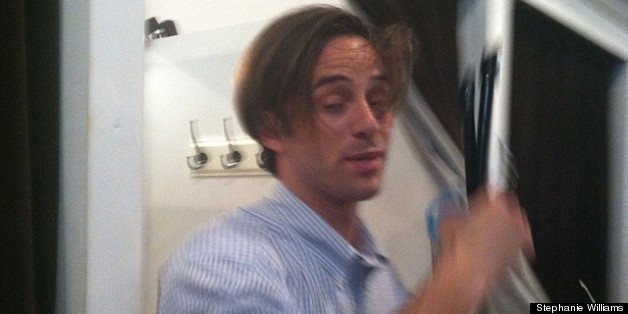 An art history professor at New York University is accused of using his iPhone to film women changing in a West Village clothing store.
Ross Finocchio, 34, was charged with unlawful surveillance after he was allegedly caught putting his iPhone in a shoe and sliding it under the partition of an adjacent changing room at Beacon's Closet.
Police said Finocchio allegedly pulled the stunt twice on two separate women before being spotted by one victim, who alerted store management.
"He said, 'I'm so embarrassed. I was recording myself for a project — if I could just explain myself,'" store manager Stephanie Williams told the Post.
Authorities didn't buy Finnochio's excuse, and neither did Gothamist's Ben Yakas, who quipped, "Ahh, the old art project excuse -- classic upskirter stuff."
According to NYU Local, the professor is a Ph.D. candidate in the Department of Art History who has studied at the university for 12 years. His website, Twitter, LinkedIn and Flickr accounts had been disabled as of Tuesday.
Gawker reports that Finocchio has been distinguished for his expertise in 19th-century art, and is "currently writing a biography about the museum founder and steel magnate Henry Clay Frick."
Just goes to show that academic prowess doesn't necessarily translate to a strong moral compass. Then again, Finnochio wouldn't be the first example of a professor behaving badly.
In 2011, a California professor was caught urinating on his colleague's door after an argument. That same year, a professor at a different California university was revealed to be the author of what critics claimed was a sex tourism website.
BEFORE YOU GO
PHOTO GALLERY
Teacher-Student Sex Abuse Cases