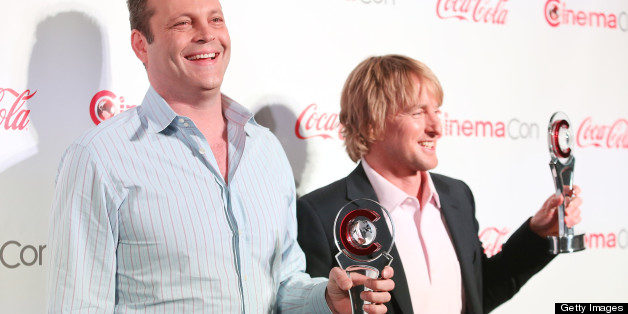 I recently sat through "Iron Man 3" with my three children. I admit that at least some of it was fun to watch. In fact, many of Robert Downey Jr.'s lines had me laughing out loud. But, for the most part, the needless addition of 3D and the endless string of loud explosions had my head spinning by the end. It got me wondering: Will there be anything for mature audiences to enjoy this summer? The good news is that -- from all accounts -- there will be. Indeed, here are four (hopefully) must-see movies that appear to be targeting post50s this summer.
1. If you loved "The Wedding Crashers" then you are probably going to at least like "The Internship" starring the same dynamic duo -- Vince Vaughn and Owen Wilson. This time the two play down-and-out salesmen whose careers have been upended by the digital age. The two manage to snag coveted internships at Google, where they are forced to compete against a group of young, tech-savvy hotshots for permanent positions. Opening on June 7, this movie sounds like it has a lot of potential.
2. If you enjoy all things British then you will want to see "Unfinished Song," opening in theaters on June 21. Early reviews call it a wonderfully, heart-warming tale of a loving marriage between grumpy retiree Arthur (Terence Stamp) and the ever-cheerful Marion (Vanessa Redgrave). When Marion becomes ill, Arthur reluctantly agrees to fill in for her in a senior citizens choir that specializes in performing rock and rap songs. The trailer for this looks fun!
3. For all you women out there: "The Hot Flashes" is about an unlikely basketball team of under-appreciated middle-aged Texas women. The group, comprised of former high school star athletes, attempts to recapture its glory days by challenging the current high school girls' state champs to a series of games to raise funds for breast cancer prevention. This film boasts a nice cast that includes Brooke Shields, Daryl Hannah and Wanda Sykes, and is scheduled to open July 12.
4. I've always been a Woody Allen fan so there's no doubt I will see the 77-year-old's next movie, "Blue Jasmine," scheduled to hit theaters on July 26 (a trailer for the film isn't available yet). This time, Allen is back in America with a drama that follows the trials and tribulations of a privileged and fashionable New York housewife, played by Cate Blanchett, after she's dumped by her longtime husband, played by Alec Baldwin.
What are you looking forward to this summer? Let us know in comments.
BEFORE YOU GO
PHOTO GALLERY
12th Annual Movies for Grownups Award winners