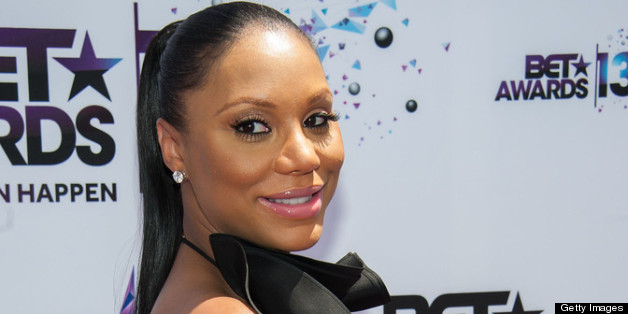 If you watch "Braxton Family Values," or its spinoff "Tamar & Vince," you may have a particular idea of the youngest Braxton, Tamar. The reality show diva is often known for being incredibly outspoken, describing herself in the third person ("she, me, her") and overall being a bit "overthetop.com."
With two hit shows, two hit singles, a loving music mogul husband, and a baby on the way, one would expect the star's ego to be on overload--because clearly, "She won!" But during an exclusive interview with Ebony, the "Love and War" singer showed a completely different side of herself, opening up about her past abusive relationships, her insecurities and her battle with vitiligo.
Braxton revealed her struggle with the skin disease last year, shortly after the release of her first single. Now, with the release of her second single "The One," the Braxton breakout star readdressed those pesky skin lightening rumors and shut them down once and for all.
I've always had it, since I was a young girl. It's not as bad as others because everybody has it differently, but I've certainly had mine diagnosed. That's why I tan. People say, "You bleach your skin!" But I tan just so I can have a better tone on my skin, boo!...But when you get diagnosed with a skin disorder, it's hard. It does weigh on your self-esteem. It really does. But I'm done defending that. I'm not bleaching my skin and if I was bleaching my skin and I felt like saying so, I would, but for the record, I am not.
She also opened up on her past two abusive relationships, experiences that have certainly contributed to the quintessential Tamar we've all come to know and love.
I haven't always been vocal about my feelings, especially in a relationship. Now, I make sure that I'm very vocal about my feelings, everybody knows how I feel. Sometimes it's over the top and most of the time it's 'Team Too-Much,'" she laughs, "But I have to do a lot. (I was) a shy person who had self-esteem issues trying to figure it out -- now, I've gotten over my hangovers. You say, I'm comfortable and confident, it took a long time to get there. Maybe like a year or so before Braxton Family Values, I wasn't that person. I was faking it til I make it, pretty much. I didn't feel like I was beautiful. I didn't feel like I deserved things. I didn't feel like I could stand in a room and speak or even sing and have people who wanted to listen.
She also gushed about her husband and how he helped her overcome those struggles:
He's helped me with accepting what happened to me and helped me realize that that's not my make-up, (being abused) is not who I am, it hasn't hindered who I am, it hasn't stopped my integrity. I really appreciate him more and more everyday.
Truth be told, we already loved Tamar's crazy and candid ways--not to mention her hilarious sayings--but this interview made us even more obsessed with the reality star turned solo artist. "She did that!"
Head over to Ebony.com and check out Tamar's full interview.
BEFORE YOU GO
PHOTO GALLERY
Black Celebrity Families