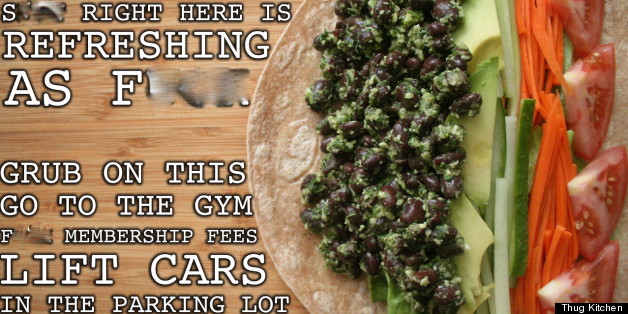 Like most superheroes, Dr. Thug of Thug Kitchen goes by an alias to protect his true identity. From what, we are not sure, since his aggressively-pro-vegetables stance seems to be loved, if not universally, at least by the likes of Gwyneth Paltrow and... well... us. If that's not a broad sample of the food-eating community, we just don't know what is.
Thug Kitchen's Tumblr has absolutely exploded around the Internet, with its particular brand of foul-mouthed, in-your-face recipe slinging -- but we wanted to make absolutely sure you'd seen it, even if you've been hiding under a rock. If you thought detailing the health benefits of an avocado couldn't be interesting, funny and actually kind of offensive, boy were you wrong. However, lest you think that advising their readers to "eat like they give a fuck" is for shock value alone, listen to what Dr. Thug has to say about why Thug Kitchen came to be [*Please note, the rest of this post contains explicit language that may be objectionable or NSFW.]:
This site is here to help your narrow dietary minded ass explore some fucking options so that you can look and feel like a fucking champ. Part of what we enjoy about TK is how, hopefully, it will get readers thinking about what kind of additional behaviors they attribute to people who try to eat healthy. Everyone deserves to feel a part of our country's push toward a healthier diet, not just people with disposable incomes who speak a certain way. We aim to educate as well as entertain, mother fucker.
We seriously couldn't agree more, as you probably already know based on how frequently we say things like, "calm down! We all have to eat food!" And although we do love our grilled cheeses and organ meats and chocolate desserts, we also recognize and appreciate how dramatically better we feel when we eat some fucking vegetables (sorry, we couldn't help it). Check out some of our favorite Dr. Thug posts below, and click over to Thug Kitchen to check it all out and follow along.
Want to read more from HuffPost Taste? Follow us on Twitter, Facebook, Pinterest and Tumblr.
PHOTO GALLERY
Thug Kitchen
BEFORE YOU GO