If rock 'n' roll is the devil's music, this year's headliners of HoZac Blackout Fest in Chicago may as well be agents of Satan.
Just days ahead of HoZac's weekend-long festival celebrating all things underground rock, the Chicago-based record label's founders noticed fliers protesting the underground Boston punk group Unnatural Axe.
HoZac co-founder Todd Novak told HuffPost Chicago he first spied the fliers around churches in the Ukrainian Village and Humboldt Park calling on the "Good Christians of Chicago" to stop the band from playing their May 17 show.
(Story continues below.)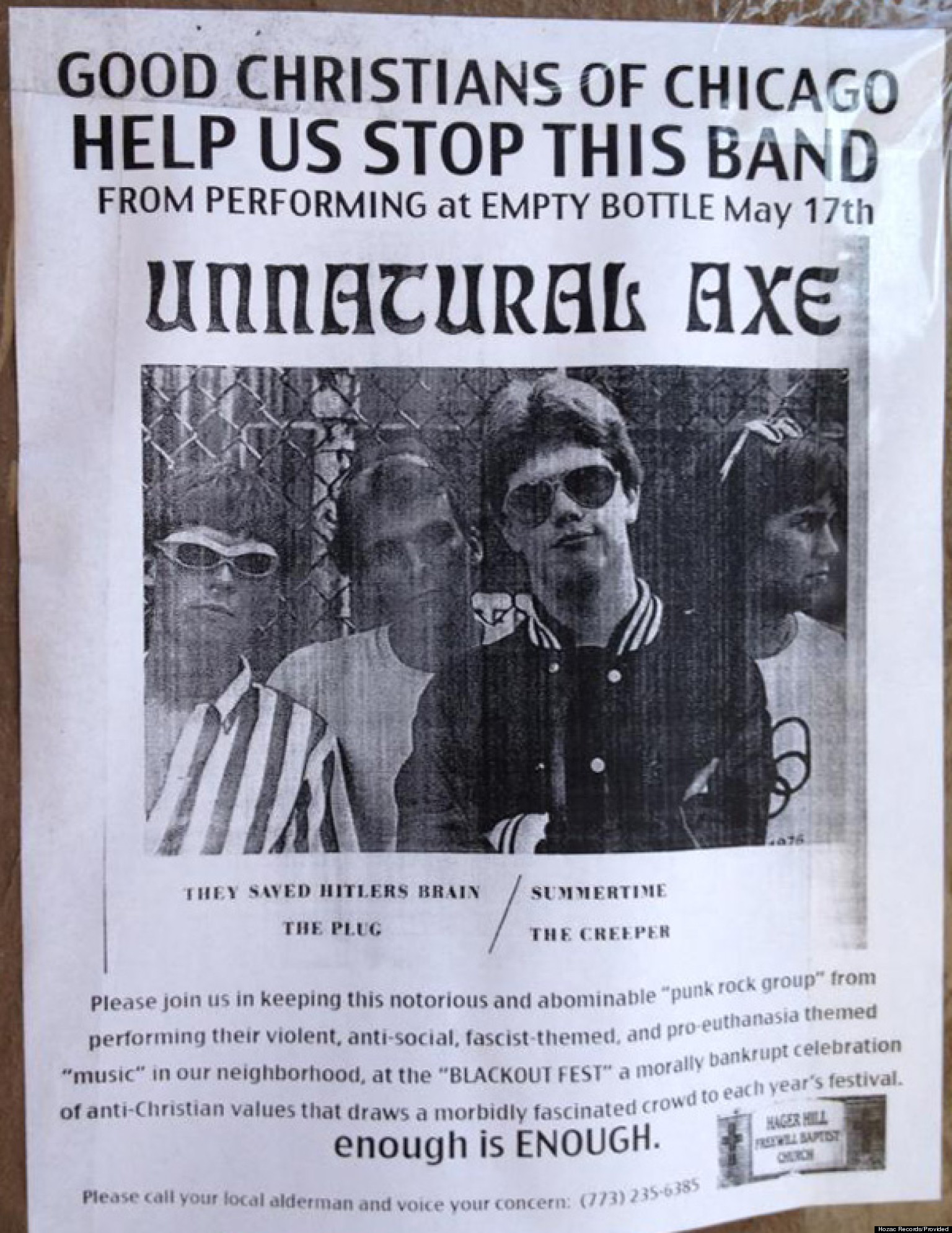 The flier reads:
"Please join us in keeping this notorious and abominable "punk rock group" from performing their violent, anti-social, fascist-themed, and pro-euthanasia-themed "music" in our neighborhood, at the "BLACKOUT FEST," a morally bankrupt celebration of anti-Christian values that draws a morbidly fascinated crowd to each year's festival. Enough is ENOUGH. Please call your local aldermen and voice your concern."
The missive concludes with a phone number for the Wicker Park Bucktown Chamber of Commerce.
"It's kind of surprising. It's kind of great. I kind of wish it were Westboro Baptist Church," Novak told HuffPost, referencing the picket and protest-happy organization that has been designated a hate group by the Southern Poverty Law Center.
Despite the local tone of the flier, it appears to be the work of Kentucky-based Hagar Hill Freewill Baptist Church. Calls to the church went unanswered earlier this week.
Even if the flier is an elaborate hoax on the part of some pot-stirring prankster, protests of Unnatural Axe are not new, Novak says.
"There were a couple other churches that have gone after this band in the past" due to their name and song titles, which include "Butcher Babies," "The Creeper Nasties" and "Sex Substitutes."
Despite the protest, Novak said having the headliner of the festival singled out in this way is an endorsement rather than a cause for alarm.
"It's like a banned film—you ban a movie and everyone wants to see it. They're doing everyone a backhanded favor when they protest stuff."
Adding to the irony that Hagar Hill's protest flier — a semi-crude black and white photocopy — resembles classic punk rock posters, the church probably knows more about Unnatural Axe's complete discography than most casual rock fans.
Formed in Boston in 1978, Unnatural Axe had just a handful of releases, including a four-song EP and one LP but didn't break beyond the East Coast rock circuit of Boston and New York. Though a documentary was filmed on the band (embedded above), apart from a 2006 show in Detroit, the band remained a regional underground phenomenon.
"They never broke up officially, but they weren't playing much," Novak said. "[Unnatural Axe] was a band we never thought we'd see live; they're all guys that work for MIT and Harvard now."
Now in its ninth year, Blackout Fest has been a niche festival of choice for seeing under-the-radar bands many of whom rarely perform anymore. Novak said the less well-known the headliner, the better.
"A lot of times [fest-goers] look at the lineup and don't know the bands, but that's what they expect now. A lot of these are bands that haven't been heard before."
Of Hagar Hill's allegation that Blackout Fest is "morally bankrupt," Novak said, "Actually, it's just a weekend with obscure underground musicians. I don't know if it's morally bankrupt, but probably moreso than less."
Novak did note that after eight years of Blackout Fests, the gathering has developed a reputation. "It's a debaucherous weekend of excess."
As much can be expected for a Chicago-based music festival called "Blackout." No weak pits.
HoZac Blackout Fest is May 16-19 at the Empty Bottle. Tickets are $25 per day or $70 for a 4-day pass.
BEFORE YOU GO
PHOTO GALLERY
Banned Music Videos