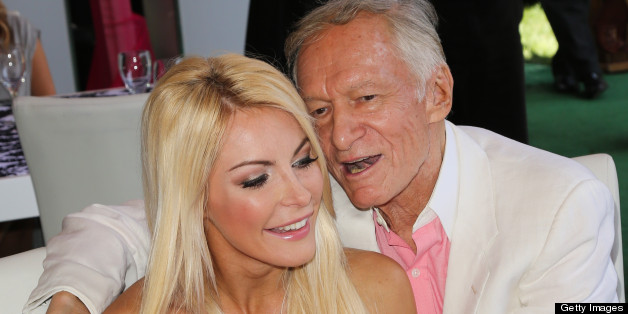 Never mind "if you like it, put a ring on it." If you like it, buy her a $5 million home in her mother's name so that your new wife-of-60 years-your-junior has a roof over her head when you go off to the big Playboy Mansion in the sky.
Hugh Hefner, 87, paid $5 million for a 5,900-square-foot house in the Hollywood Hills about a month ago. Records show that the title was put in the name of Lee Lovitt, who is Crystal Harris' mother. As far as mothers-in-law go, this one gushes about Hef all the time. When he married Crystal last New Year's eve, Lovitt, who used to run a pub in West Bromwich, England, called Hef "wonderful" and described his wedding to her then-26-year-old daughter "amazing." We wished them well then, and we wish them well now.
Reports say that Hef and Crystal may not move into the new place, preferring to continue living at the Playboy Mansion ... which makes us wonder if Mumsy herself may not take up residence for awhile. The house is a looker for sure. Built in 2011 (he continues to like both his wives and home young), the contemporary home has lots of sleek lines and angular features. We especially like the horizontal shower room, which appears to be larger than most apartments we've been in.
As for gifts, Hef has been known to shower them on Crystal. She sported a $90,000 engagement ring he gave her and drove around in her own Bentley -- also a gift from him. We'll let you know if the Bentley ever gets parked in the driveway of the new place.
Photos courtesy of Realtor.com
PHOTO GALLERY
Hef's New Home For Crystal Harris