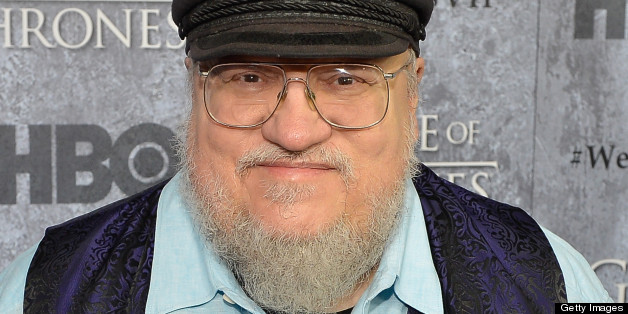 "Game of Thrones" author George R.R. Martin reviewed "The Great Gatsby" on his personal blog, showering plaudits on director Baz Luhrmann and title star Leonardo DiCaprio.
Martin felt this take -- with all of its 3D and modern music -- was simply more alive than Robert Redford's 1974 version of the story. "Visually, this 'Gatsby' is just amazing, something even its harshest critics have been forced to allow," Martin writes. "I don't think it would be correct to say that it brings 1920s New York to life, since I doubt that 1920s NYC was ever so saturated with color, life, sound. This is a dreamscape, everything bigger, brighter, noisier, drenched in life and color ... but that's perfectly appropriate here, since the entire narrative is couched as Nick Carraway looking back on a formative time in his life, and dreams are always more intense than reality. Golden ages are never as golden as we remember them."
The author unsurprisingly describes himself as "a word guy, first and foremost" and thus appreciates that F. Scott Fitzgerald's prose figures so prominently in the movie. Martin says he had feared that DiCaprio -- like Redford -- would be too self-assured to be able to pull off the desperation underscored in Gatsby's character, but was pleased to find that that wasn't the case: "This is a new, mature Leonardo, as I have never seen himself before, and he does a great turn here. The Kid and Jack and all of those vanish, and there's only Gatsby... trying so hard, dreaming so fiercely. I loved it."
Martin isn't the only famous figure to have reviewed Luhrmann's film. James Franco -- who also loved the movie -- offered his take to Vice. "Gatsby's desire is revealed to be that of a 16-year-old boy: not only does he want to win Daisy, he wants to control her affections," Franco wrote. "It reminds me of my high school relationships, where I tortured girlfriends for getting fingered by other boys when they were freshmen. Just move on, dude. We are obsessed by his obsession but aren't significantly moved by his accomplishment of the goal."
Head over to Martin's Live Journal (yep, LiveJournal) for his full review. Don't leave it up to the famous folks, though. Give us your review in the comments.
PHOTO GALLERY
Cannes Film Festival
BEFORE YOU GO