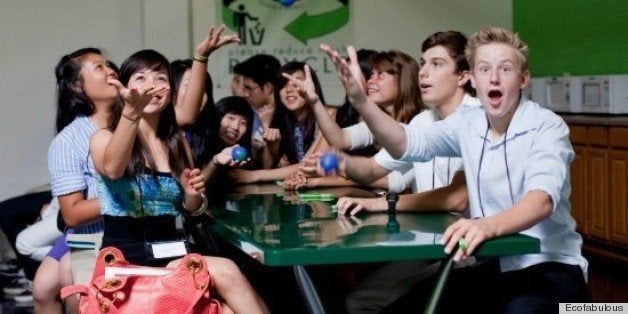 The Huffington Post is proud to present a story originally published on Ecofabulous.
When it comes to the state of our nation's schools, a little gussying up goes a long way. Providing children with happy, safe and pleasing surroundings in which to learn should be a top priority, and there's no better way to do so than by giving schools a dose of eco-TLC. Boasting better energy efficiency, more natural light and better insulation, green schools not only protect the health of kids, but promote social awareness and give youth an overall more positive space to practice their Three Rs.
Global Green and Pureology recently announced the winner of the Global Green USA Green School Makeover Competition: The Texas School for the Deaf is set to receive a full-fledged overhaul courtesy of Pureology in the amount of $130,000, while four runner-up schools will receive $2,500 toward sustainability upgrades. This stunning display of altruism will go toward upgrading facilities with an aim to "improve student performance, increase daily attendance, and reduce…energy and water consumption."
By retrofitting light fixtures with energy efficient bulbs, installing hands-free dryers, and educating students about recycling, Global Green and Pureology strive to build future environmental pioneers. The work starts in the classroom, and with the help of the award money, it's guaranteed that said classroom(s) will lead the way in environmental innovations.
To learn more about Global Green's Green Schools Initiative and how to make green improvements at your own school, click here. Also be sure to follow TSD's green makeover on Pureology's Facebook page. We give the project a gold star.