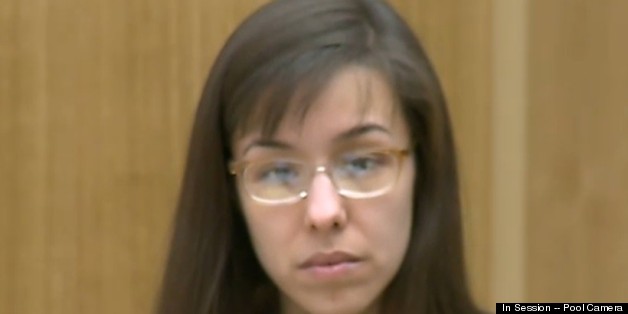 The trial of convicted murderer Jodi Arias moves Thursday into the penalty phase to determine whether the 32-year-old will face execution or life imprisonment.
Arias, a photographer from California, was convicted May 8 of first-degree murder in the slaying of her ex-boyfriend, Travis Alexander.
The capital murder verdict, reached after more than 15 hours of deliberations, was a clear rejection of both Arias' self-defense claim as well as defense psychologist Richard Samuels' contention that she suffered from PTSD and acute stress disorder.
CLICK HERE FOR LIVE UPDATES

On Wednesday, the same Phoenix jury that convicted Arias declared she was eligible for the death penalty. The jury made their decision after less than three hours of deliberation.
During this next phase of the trial, the sentencing phase, prosecutors will present aggravating factors in Alexander's homicide and defense attorneys will present mitigating factors. Jurors must weigh both sides.
The penalty phase is like a miniature trial. Defense attorneys and the prosecutor will make opening statements and introduce evidence. Both sides will then have the opportunity to introduce witnesses prior to making closing arguments.
Unlike the guilt phase of a trial, jurors may hear pleas for leniency and victim impact statements by Alexander's family. Arias will also be given the opportunity to make a statement on her own behalf.
Jurors ultimately will have to make a unanimous decision on whether Arias deserves the death penalty. If not, Arias will get a life sentence. The state of Arizona has not executed a woman since 1930.
Arias stood accused of stabbing 30-year-old Alexander nearly 30 times, shooting him in the head and cutting his throat from ear to ear in his Mesa home on June 4, 2008. The jury of eight men and four women heard four months of gruesome testimony in the case.
The trial is scheduled to resume at 1:30 p.m. Eastern time.
Read below for minute-by-minute updates from court Thursday:
The Huffington Post is live blogging Thursday's testimony. Check back here for updates.
BEFORE YOU GO
PHOTO GALLERY
Jodi Arias Timeline