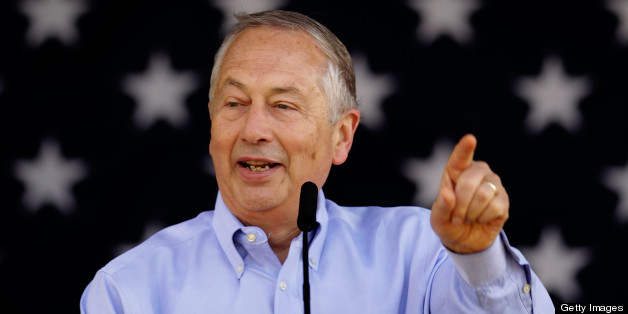 Larry Pratt, executive director of Gun Owners of America, believes that President Barack Obama is building an armed force in the Department of Homeland Security meant to be "equally as powerful as the military."
In an interview this month with conspiracy theorist and radio host Pete Santilli and first caught by Right Wing Watch, Pratt matter-of-factly agreed with Santilli's theory that Obama was developing a "fighting force" that could be used "against the American people" or "in opposition to a military."
"During his '08 campaign, the president had talked about setting up some kind of, what did he call it, a national security force -- something of that sort -- that would be equally as powerful as the military," Pratt said. "Well, that should have told us what he was up to. If he can't actually commandeer the military, then he'll bulk up the Department of Homeland Insecurity and he'll have them buy a gazillion bullets ... These are anti-personnel rounds. These are not target practice rounds. They're not semiwadcutters, they're not even the military ball ammo, they're anti-personnel."
Pratt went on to suggest that it was possible that the ammunition acquisitions could also be a ploy by Obama to "drive up the price and lower the availability of ammunition in particular."
Listen to Pratt's comments below, via Right Wing Watch:
Reports of large-scale purchases of ammunition by federal agencies have set off conspiracy theorists, some of whom have been quick to conclude that the government must be preparing for civil unrest. Officials have meanwhile explained the big buys as having to do more with getting a good price for the ammunition. The Associated Press reported in February:
Federal solicitations to buy the bullets are known as "strategic sourcing contracts," which help the government get a low price for a big purchase, says Peggy Dixon, spokeswoman for the Federal Law Enforcement Training Center in Glynco, Ga. The training center and others like it run by the Homeland Security Department use as many as 15 million rounds every year, mostly on shooting ranges and in training exercises.

Dixon said one of the contracts would allow Homeland Security to buy up to 750 million rounds of ammunition over the next five years for its training facilities. The rounds are used for basic and advanced law enforcement training for federal law enforcement agencies under the department's umbrella. The facilities also offer firearms training to tens of thousands of federal law enforcement officers. More than 90 federal agencies and 70,000 agents and officers used the department's training center last year.
That explanation hasn't mollified people like Pratt, however. In February, he agreed with fringe radio hosts Stan Solomon and Greg W. Howard, who claimed that Obama was seeking to "put together a racial force" to help him confiscate guns and "wipe out" those who resisted.
BEFORE YOU GO
PHOTO GALLERY
11 Paranoid Obama Conspiracy Theories