In honor of Lisa Yuskavage's 51st birthday, we are revisiting a post originally published last year honoring the artist.
Lisa Yuskavage's signature curvy-kitsch ladies have been exhibited in galleries and museums worldwide, although fans have to be patient for more work. In an interview with New York Magazine, Marianne Boesky said, "Lisa is the ultimate of wait lists, because she's not at all prolific...She makes five big paintings every two years, maybe."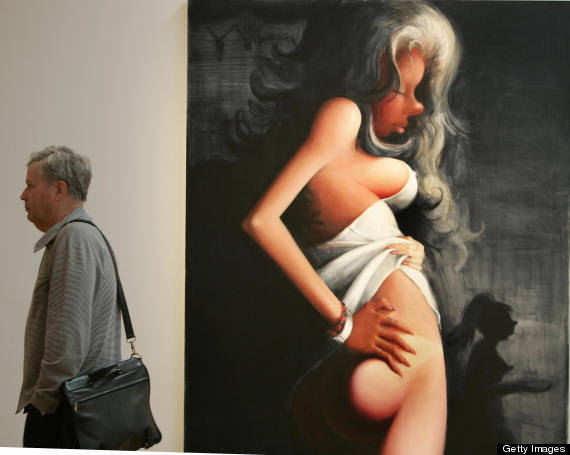 A possible buyer walks past a painting titled ' Night ' by Lisa Yuskavage during a preview 15 May 2007 for the Post-War and Contemporary Art Evening Sale at Christie's New York. The sale will be held 16 May. (TIMOTHY A. CLARY/AFP/Getty Images)
Yuskavage had her first solo exhibit in 1990, shortly after she graduated with her MFA from Yale. In her early work, she was merely scratching the surface of what she would eventually display. Her modest fascination with backs evolved into confrontational depictions of complete female nudes -- and we're not talking Giacometti or Delacroix style nudes here (although some critics have compared her to classical greats). Yuskavage explores the paradoxical nature of beauty by painting cartoonish, child-like women in sexually-charged poses often set amidst an expansive landscape setting.
Using a delicate painterly style and soft pastel palate, she creates youthful nymphettes that are sure to make even Humbert Humbert blush. Her work as a whole pushes the limits of voyeurism and eroticism. Mixing classic manipulations of light and silhouettes with vintage pin-up beauty ideals, and maybe a dash of Precious Moments, the goal of aggressively confronting the sexual hesitations of the viewer is readily apparent. But she doesn't shy away from the disapproval. In one of her triptychs, she shows a chorus of severe-looking women in conservative dress set in contrast to a naked female, parted legs and all.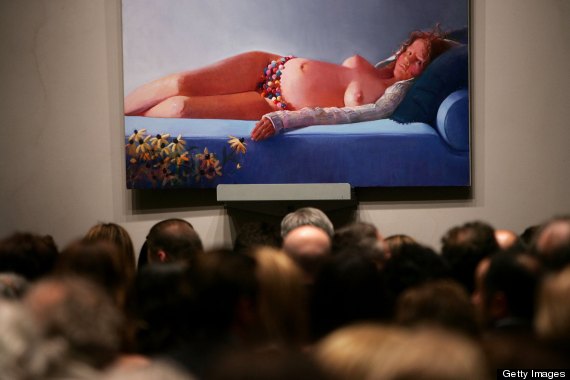 A Lisa Yuskavage print entitled 'couch' is displayed inside the auction house Christie's during the Post-War and contemporary Art sale November 15, 2006 in New York City. Christie's estimates that works by Warhol, Willem de Kooning, Roy Lichtenstein and others could go for up to $220 million in what the auction house says may be the most valuable post-World War II and contemporary art auction in history. Warhol's 'Mao' portrait from 1972 went for over 17 million, setting an all time record for the artist. (Photo by Spencer Platt/Getty Images)
Despite or perhaps because of Yuskavage's ambivalent position between high art and soft pornography, her dreamy style has been embraced by the art world. An exhibit of Yuskavage's work sold out in 2006 before it even opened, and one her highly coveted paintings sold at auction for more than $1 million.
So whether you love the Titian-esque apsects of her technique or the biting satire of her subject matter, don't forget to toast to Yuskavage's 50th! And check out a slideshow of her work that was previously on display at David Zwirner Gallery.
PHOTO GALLERY
Lisa Yuskavage