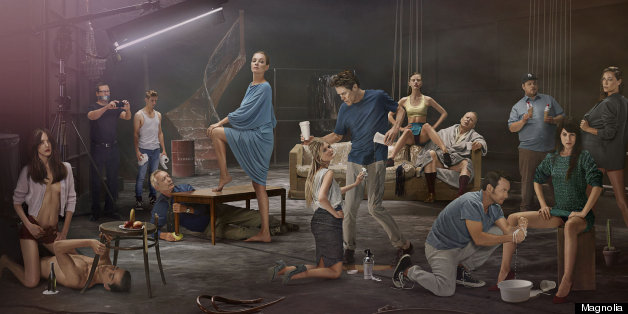 Controversy magnet Lars Von Trier has unveiled the first official look at his upcoming film "Nymphomaniac" on the film's website. The photo, a "porn-inspired tableau" to use some of THR's flowery language, features the film's game cast in a bunch of almost-compromising positions, none of which would be out of place on an episode of "Red Shoe Diaries."
For instance, in the lower left of the "Nymphomaniac" photo, there's a shirtless Shia LaBeouf acting as handy man while a young woman straddles his body; an overflowing bottle of champagne sits bubbling over to the couple's left. In the middle, Willem Dafoe is shown with a coffee stain on his pants; a young woman kneels before him to clean it off. Stars Charlotte Gainsbourg and Uma Thurman, meanwhile, both appear with their legs spread in different places within the frame. (As previously noted, the film will only feature simulated sex and not actual intercourse -- this despite early rumors to the contrary.)
While all this cheeky sex play is taking place, Von Trier stands in the back. With a camera. And duct tape over his mouth. (A reference to his controversial Hitler comments at the 2011 Cannes Film Festival or just another sex game? You be the judge!)
For now, "Nymphomaniac" is still a ways out; part one of the two-part film will debut in Denmark on Dec. 25, before its worldwide rollout begins soon after. Magnolia will release "Nymphomaniac" in the U.S. Oh, yeah: This one is in two parts.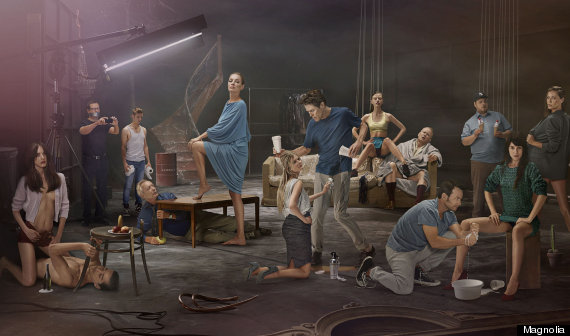 PHOTO GALLERY
Celebrity News & Photos
BEFORE YOU GO