The kind of person who finds a pit bull kissing booth appealing -- and, for the record, we at HuffPost DC are those kinds of people -- should get ready for an event coming about a year from now that's going to knock your socks off.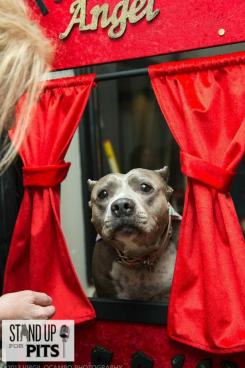 Rebecca Corry, actress, comic and pit bull lover, was at the Arlington Cinema & Draft House last weekend performing her "Stand Up For Pits" comedy show/animal rescue fundraiser.
Before the show, Corry spent time exploring D.C. In front of the White House, she took this photo of her dog, Angel, who, at shows, is the animal trading dollars for smooches: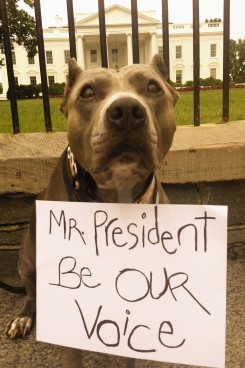 Corry says when she saw how excited people became seeing this photo being taken, it got her thinking that when she came back to D.C. in May, 2014 to put on "Stand Up For Pits" here for the second time -- the show's also been performed in Los Angeles and Seattle, among other places -- she should also try to get a whole lot of other pit bull enthusiasts to join her there in front of the home of the president.
"I was like, why don't I organize a march on Washington?" says Corry.
The plans are still very much in their incubation stage. But what Corry has in mind, so far, is -- kissing booth aside -- "to keep the march old school," she says. "A podium/soap box where people could speak the truth and tell their stories. Celebrites, athletes, comics, actors, musicians and everyone whose lives have been changed by the love of a pibble."
If you are one of those whose lives has been changed by a pibble, you probably already know what a pibble is. In case you aren't: it's an affectionate term for pit bulls, meant to indicate that these dogs are -- here's Corry talking again -- "intelligent, kind, loving, loyal and gentle."
The One Million Pibble March is designed to bring breed awareness to the greater public and to protest against laws that specifically target pit bulls ("breed specific legislation," the controversial laws are called).
The dogs also flood shelters where they are euthanized at alarming rates, according to advocates' statistics.
Corry hopes to encourage federal funding of animal law enforcement and anti-cruelty programs. These are especially personal goals, since Angel was severely abused before finding her way into the kissing booth.
"She was literally tortured for five years of her life," says Corry about her dog, who has a scar-riddled body, along with acid burned skin, busted knees and ears that seem to have been chopped off by scissors. (You can read Angel's heartbreaking, heartwarming rescue story here.)
"And she has nothing but love to give. Millions more just like her," she says, "want nothing more than to love."
And if Corry happens to meet up with Obama on this next visit?
"My dream would be to have his ear, even if for five minutes," she says. "He took the time to call the Philadelphia Eagles' owner to thank him for signing Michael Vick. Surely he could take another five minutes to talk to me."
Looking for a new furry friend of your own?
Horses are looking for homes, too:
PHOTO GALLERY
Horses Needing Homes