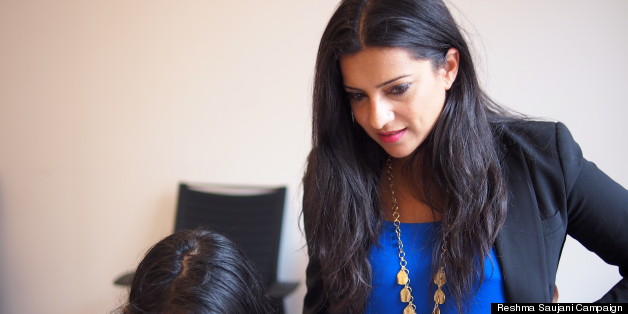 "I'm a man of few characters, so I'm going to keep this very, very brief," Twitter inventor Jack Dorsey told a crowd packed into Manhattan's Le Poisson Rouge last month, according to The Village Voice. "We need more strong women leaders in this country. We need more revolutionaries. That is Reshma."
Dorsey, who was speaking at Reshma Saujani's campaign launch for New York City public advocate, isn't the only big name to come out in support of the tech star. On Wednesday, Saujani's campaign announced they were expected to hit $2.8 million in contributions from first-time donors, including Facebook's Sheryl Sandberg and musician John Legend.
So who is Reshma Saujani?
The daughter of Indian refugees from Idi Aman's regime in Uganda and a Harvard and Yale alum, she interned at the White House, was a research assistant under Civil Rights Judge A. Leon Higginbotham, Jr., and then moved to New York City with $200,000 in student debt, before taking a job as a lawyer. She worked on Hillary Clinton's presidential campaign and in 2009 ran for the congressional seat in New York's 14th District, becoming the first South Asian woman in the country to run for U.S. Congress. After the campaign, she was appointed Deputy Public Advocate in New York City.
She's perhaps best known, however, as the founder of Girls Who Code, a non-profit that works to equip young women with computer programming skills.
The race to replace Bill de Blasio as New York City's next public advocate may not garner as much excitement as that other race , but it's still shaping up to be an interesting one.
Saujani, a Democrat, is going up against state Senator Daniel Squadron, City Council Member Letitia James, education advocate Noah Gotbaum, and Cathy Guerriero, a professor at Columbia.
She recently talked to HuffPost about her life with immigrant parents, her success with Girls Who Code, and creating jobs in New York City.
HP: How do you feel your parents' immigrant background would affect your role as Public Advocate?
RS: Huge parts of our city's children include immigrants and many of them include first and second generation immigrants who are on the quest to claim the American dream. My family came here broke, poor, not knowing the language, and having the rest of their families spread across refugee camps across the world. This country gave them everything and gave me the chance to go to good public schools, Harvard to get my masters, and Yale for law school. My story, the quest for opportunity, is so many New Yorkers' stories, coming here to this country in search for opportunity, the American dream, and a better life for their children.
HP: What do you hope to achieve with Girls Who Code?
RS: I saw the technology gap in our city pretty loud and clear. The fact is that some children have access to technology and exposure on how to build technology at a very young age. Then there are some children graduating high school with little to no exposure with computers or to computer science. And from a politics perspective, it's clear where the jobs are going to be.
1.4 million jobs are going to be open in 2020 and our work force is not prepared to fill those jobs. 56 percent of our labor force is women and they're not getting exposure to that skillset.
So I worked with educators to develop a curriculum called Girls Who Code to teach tenage girls, many from udnerserved communities, how to computer program, how to get a good paying jobs when they graduate high school and college.
It was a huge success. Almost 100 percent of our girls want to major in computer science. They're buliding applications that are making their communities better, teaching other young women or their parents how to computer program, and they're building things that are going to form a basis of innovation in our country.
HP: How would you help provide economic growth in New York City?
RS: Girls Who Code is all about jobs. I didn't start the program just to close the gender gap for the sake of it but to get women good paying jobs and making sure they receive pay equity in those jobs. And what I learned with Girls Who Code is that it's possible, if we invest enough in education and really teach girls a skill set that will enable them to get jobs when they graduate, they will not only change their career trajectories, but the trajectories of their families.
I want to take what I learned at Girls Who Code and implement it in our schools. [Girls Who Code] has also really informed what a job training program should look like with adults. The fact that many of our girls are teaching their parents how to computer program and they're now on the path to be website programmers demonstrates if we can teach 16-year-old girls how to program, we can teach parents and adults.
HP: Can you speak to your advocacy for women? What key reforms will you run on?
RS: I'm an unabashed believer that New York City cannot be as great as it can be unless we empower the women of New York. It's 2013 and we still have a pay gap. As the next public advocate, paid parental leave will be a priority. I want to make sure this country is not standing with Liberia in terms of how we treat our working parents. I want to fight to change our building laws so we can have daycare centers in buildings, increase the tax credit for child care because we haven't done that in well over a decade all the while childcare costs have increased astronomically.
BEFORE YOU GO