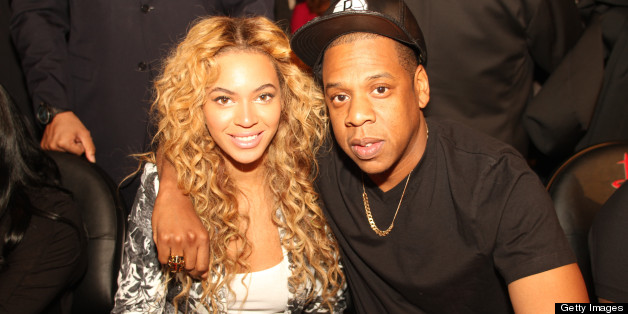 Here we go again. Beyonce is pregnant with baby number two, according to Friday's reports. After the world had a moment to take in that news, chatter turned to two topics of conversation: how will Blue Ivy deal with a little sibling edging in on her turf, and what kind of name will Jay and Bey choose to pair with her meaningful moniker. Luckily, the Internet is here to provide suggestions.
By Friday night, #BeyonceAndJayZSecondBabyNames was trending nationwide on Twitter. And while the last time Beyonce was expecting everyone was wondering about names like Brooklyn (per Jay's rhyme "If we had a daughter, guess what I'm a call her? Brooklyn Carter...) or Sasha (as in Fierce, Beyonce's alter ego), it's much simpler now -- choose color, add plant and voila... Insta-BeyBey Name! (Never mind that the elder Carter baby's name is likely derived from her star parent's chart-toppers The Blueprint and IV.) Based on this formula, "Red Vine" is proving to be a popular suggestion, and some tweeters have found more obscure combinations like "Chartreuse Hydrangea" and "Fleshtone Amaryllis."
However, if your knowledge of either colors or agriculture is limited, there is a tool to help you come up with the right name for Beyonce and Jay-Z's next kid. Danielle and Greg Kepler originally created the Bey Bey Name Generator for fun when Blue's quirky name became public, but their single-page site is now the perfect web diversion for the job at hand. Case in point: On our first shot we got the name "Cobalt Spruce." You're welcome.
Here's a sampling of more names we generated. Click over to find yours and let us know what it is in the comments or tweet it to @HuffPostParents!
PHOTO GALLERY
The BeyBey Name Generator
BEFORE YOU GO