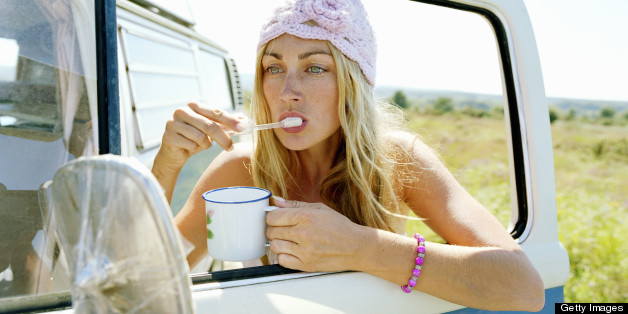 Can't start your day without a cup of coffee? Your morning routine may soon get a whole lot easier.
Colgate-Palmolive filed a patent application for a toothbrush capable of delivering a dose of chemicals to the user with every brush. While a number of medicines could conceivably be distributed, the idea appears to have taken off in a singular direction: a toothbrush with caffeine.
In the application, which was made public recently, the company describes several variations of an oral care implement that would "invoke a sensory response" during use. Illustrations of the concept show speciality-shaped patches on the back of the brush's head that would designate what type of chemical or medicine the toothbrush contains.
Proposed additives range from flavors, such as apple or lemon, to medications, including pain killers or appetite suppressants. According to the proposal, the chemically infused toothbrush would be viable for daily use up to three months -- about the same amount of time as the American Dental Association's recommendation for the typical toothbrush.
(Story continues below.)

Colgate-Palmolive included several diagrams of the proposed product in its patent application. Each illustration includes a distinctive shape on the head of the brush, which would contain the chemicals. (Images via USPTO/Google)
But don't get too excited just yet, caffeine addicts.
Even if this patent is approved and Colgate-Palmolive goes on to release the product, the company is likely to run into some issues with the Food and Drug Administration over its plans to infuse a toothbrush with caffeine, as noted by Vice's Motherboard blog.
In late April, the FDA announced plans to investigate the safety of added caffeine, particularly the impact of "new and easy sources" of the food additive on the health of adolescents and children.
Last week, Wrigley's Alert Energy Caffeine Gum was pulled from shelves after less than one month on the market. The Associated Press reports that the halt in production is temporary, "out of respect" for the FDA while it conducts its investigation into the safety of the caffeine additive.
Since Colgate-Palmolive's caffeinated toothbrush is likely to face a similar inquiry from the FDA before it could be approved, you'll just have to stick with your brush-while-you-make-coffee routine, for now.
A spokesperson for Colgate-Palmolive was not immediately available for comment.
BEFORE YOU GO
PHOTO GALLERY
Caffeine In Drinks