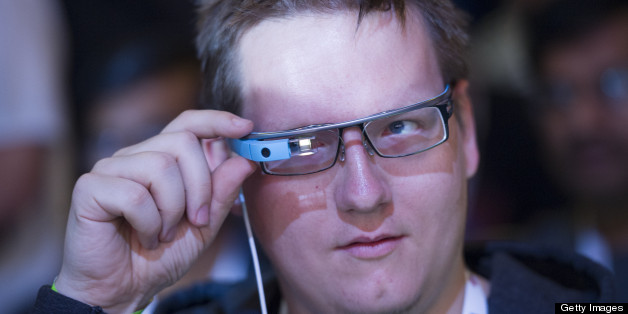 Eight members of congress belonging to a bipartisan "privacy caucus" have penned a letter to Google chief executive Larry Page to request additional information about the privacy implications of Google Glass, Google's yet-to-be released wearable computing device.
Noting that they are "curious whether this new technology could infringe on the privacy of the average American," the representatives laid out eight key questions for Google, including requests for additional information about Glass' ability to track non-users of the device, the use of facial recognition technology and whether Google will revise its privacy policy to take Glass' new capabilities into account.
Glass, which includes a camera that could allow wearers to surreptitiously film and photograph non-users, has sparked privacy fears among some who worry the technology could allow people to secretly record conversations. The product might also eventually make use of facial recognition technology, another privacy concern for some.
Glass also allows wearers to send text messages, check their email, search the web and get directions via the head-mounted gadget, and new apps from CNN, Twitter, Elle and Facebook, among others, are rapidly expanding the capabilities of the device. One developer boasted he'd created an app that allowed Glass wearers to snap pictures just by blinking their eye -- potentially making it easier than ever to record someone without his or her knowledge.
The lawmaker's questions, which Google has until June 14 to answer, include:
[W]e would like to know how Google plans to prevent Google Glass from unintentionally collecting data about the user/non-user without consent?

Would Google place limits on the technology and what type of information it can reveal about another person?

What proactive steps is Google taking to protect the privacy of non-users when Google Glass is in use?

When using Google Glass, is it true that this product would be able to use Facial Recognition Technology to unveil personal information about whomever and even some inanimate objects that the user is viewing?

Given Google Glass's sensory and processing capabilities, has Google considered making any additions or refinements ot its privacy policy?
Google's track record thus far -- which includes multiple settlements with the FTC over privacy violations -- has undermined lawmakers' trust in the tech giant. They noted in their letter that Google's Street View vehicles had mistakenly collected personal information, including telephone numbers, email addresses and passwords, and asked how the company plans to ensure that Glass users don't commit similar errors.
In the case of Google Glass, bar policy also seems to be influencing public policy: Lawmakers, in outlining the reasons for their concern, cited a Seattle bar owner's decision to ban Glass because of privacy concerns.
The congressional committee's letter was delivered on the second day of Google's annual developer conference, Google I/O. Google's director of product management for Glass, Steve Lee, addressed some of the privacy questions in a panel discussion on Thursday afternoon during the developer conference.
Lee stressed that Google had designed Glass with privacy safeguards in mind, noting that the glass display lights up from both sides when in use so non-users can see when it's active. Users must also speak or tap Glass to record -- so "taking a picture has clear social cues," he said. But while privacy may be Google's intent, at least one developer has already found ways to circumvent those safeguards via the app that he says lets users wink to take a photo.
On Thursday, Lee did not rule out the possibility of including facial recognition capabilities in the device.
"We've consistently said that we won't add new face recognition features to our services unless we have strong privacy protections in place," he said, according to The New York Times.
Google chairman Eric Schmidt previously expressed concern over the implications of facial recognition systems, noting in a 2011 interview, "I'm very concerned personally about the union of mobile tracking and face recognition."
"We built that technology and we withheld it," Schmidt said of facial recognition at the All Things Digital D9 conference in 2011. "As far as I know, it's the only technology Google has built and, after looking at it, we decided to stop."
Google has repeatedly emphasized that social cues and peoples' "social contract" will help keep Glass wearers in line, a point Glass engineer Charles Mendis brought up again on Thursday.
"If I'm recording you, I have to stare at you -- as a human being. And when someone is staring at you, you have to notice," said Mendis, according to The Verge. "If you walk into a restroom and someone's just looking at you -- I don't know about you but I'm getting the hell out of there."
Read the letter in its entirety below:
BEFORE YOU GO
PHOTO GALLERY
9 Best Google Glass Parodies