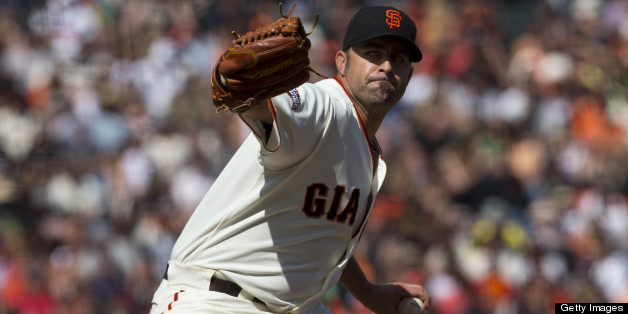 Is San Francisco Giants relief pitcher Jeremy Affeldt the most honest man in baseball?
The 11-year veteran recently revealed in his new book "To Stir a Movement: Life, Justice, and Major League Baseball" that he willingly gave up $500,000 to his employers in 2010, per Henry Schulman of the San Francisco Chronicle.
After negotiating a two-year, $10 million extension with the Giants three seasons ago, a clerical error mistakenly listed Affeldt's 2010 salary as $4.5 million in the new deal when it was actually $4 million. Both parties signed the agreement without noticing the flub and Affeldt was legally entitled to the extra money.
Still, the left-hander just didn't feel comfortable about it.
"I talked to [Giants assistant GM Bobby Evans] the next day and said, 'I can't take that money,'" Affeldt recalled. "'I won't sleep well at night knowing I took that money because every time I open my paycheck I'll know it's not right.'"
The reliever's good deed eventually led to a new contract with San Francisco in 2012 worth $18 million.
While discussing his book with Chris Haft of MLB.com, Affeldt talked about what kind of athlete he wants to be.
"I don't want to be selfish. I don't want to be, 'It's all about me, not about anybody else.' I don't want to be about, 'Come cheer for me and then leave me alone.' I don't want to be that kind of athlete," he said. "I see people who don't have food, they don't have water, they're being trafficked, they don't have homes and they don't get the opportunity to become somebody great. So I believe it's those who have been given the opportunities to be great [should] help others."
BEFORE YOU GO
PHOTO GALLERY
Best 2013 Sports Photos