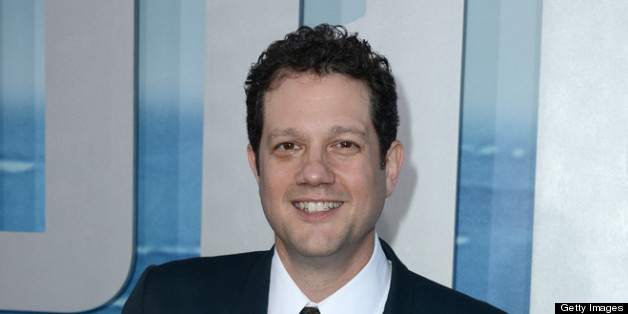 The opening scene in "Up"; Tom Cruise's heart-stopping climb up the Burj Khalifa in "Mission: Impossible - Ghost Protocol"; "Not Penny's boat." Some of the most memorable pop culture moments from the last decade have one thing in common: musical accompaniment written by Michael Giacchino.
"The stuff I work on tends to be big things like Pixar movies or franchises," Giacchino, 45, told HuffPost Entertainment. "It's kind of fun to be a part of this world, working on movies that I would have loved when I was a kid."
One of those movies is this week's "Star Trek Into Darkness." It's the second time Giacchino has boldly gone into space with the crew of the U.S.S. Enterprise, and the fourth film collaboration between himself and director J.J. Abrams.
"When we first met we became very fast friends because we had a very similar background with regard to our love of filmmaking," Giacchino, who went to school to be a filmmaker before focusing music, said of his relationship with Abrams. "It was nice because there was never a need to feel like you couldn't say you didn't like something. He could always tell me if I did something that he thought could be better, and vice versa." In addition to the films, Abrams and Giacchino have also worked together on television series like "Felicity," "Alias" and "Lost," which Giacchino cited as one of his most popular scores. (Indeed, "Lost" spawned seven CD releases.)
For "Star Trek Into Darkness," however, Giacchino not only had to replicate the success of his first score for 2009's "Star Trek," but also add a new wrinkle: a theme for the film's villain, played by Benedict Cumberbatch.
"J.J. just wanted it to feel like we weren't in a 'Star Trek' movie," Giacchino said of the track, called "London Calling." "It was a very conscious decision to make that base sound different; then, from there, we were able to evolve to our theme for the character. I remember when J.J. heard it, he said, 'Oh, it sounds English. That's perfect!' I'm not exactly sure what that meant, but in his mind it fit perfectly. I was just going for something that felt emotional and questioning as opposed to being so direct that it tells you what's going on."
If that sounds like the description of a typical Abrams character -- Abrams' mystery box technique is in full effect on "Star Trek Into Darkness" -- it shouldn't come as a total surprise: Giacchino said he views his scores as a character itself, something he picked up from John Williams' classic soundtracks from "Close Encounters of the Third Kind" and "Star Wars" among others.
"You could listen to those scores away from the movie and re-experience the movie," Giacchino, who won an Oscar for his "Up" score and was also nominated for "Ratatouille," said. "A lot of action scores nowadays, you could almost relive any movie by listening to them. For me, it was important to relive that specific film. I love that there are themes attached to characters, places and things. So you can listen back and go, 'Oh, that means the Enterprise is here,' and tell that story again in your head by just using your imagination. That was huge for me as a kid and that's just the way I went when I started writing music."
For many, Giacchino is the heir apparent to Williams, but that doesn't mean he'll get to take a swing at the new "Star Wars" sequel. Abrams, who's directing "Episode VII," has already said that Williams will return to the franchise to compose the music for the film. That said: How would Giacchino have handled the job if he had gotten the chance?
"I would say, 'I don't want to do it. John, you do it,'" Giacchino said with a laugh. "From day one, I have said I hope John does it. Selfishly, I want to hear more 'Star Wars' music and I want to hear what he would do with it. He's been an incredible teacher over the years to me, he's a friend and he's one of the best composers on Earth. I want him to do it. That's the way it should go."
The "Star Trek Into Darkness" score is available now on iTunes.
PHOTO GALLERY
Michael Giacchino Scores
BEFORE YOU GO