A landmark drama about a gay man's coming-of-age during the peak years of the HIV/AIDS crisis will get a striking makeover on the eve of its 20th anniversary.
Originally conceived as a solo piece in its 1993 incarnation, David Drake's "The Night Larry Kramer Kissed Me" will be presented as an ensemble show, featuring Andre De Shields, B.D. Wong, Wesley Taylor, Robin De Jesus and Rory O'Malley among others, for one night only on May 20 in New York.
In addition to commemorating the show's anniversary, the 2013 performance of "The Night Larry Kramer Kissed Me" will raise money for Broadway Cares/Equity Fights AIDS (BC/EFA) and Sero Project.
Inspired by Drake's personal experiences as a member of the advocacy group ACT UP, "The Night Larry Kramer Kissed Me" is frequently cited alongside "The Normal Heart" and "Angels in America: A Gay Fantasia on National Themes" as one of the first dramatic pieces to portray openly gay men and their struggles with HIV/AIDS both compassionately and in-depth.
In fact, Drake said seeing the original New York production of "The Normal Heart" inspired him to write "Larry Kramer," which takes its title from the playwright of "The Normal Heart."
"We weren't hearing much about the HIV/AIDS crisis in the media at the time, but as a young gay man, I knew what was happening around me," Drake recalled. "So 'The Normal Heart' really blew me away because what was happening outside the theater was now happening inside the theater."
The success of recent "Normal Heart" and "Angels in America" revivals on Broadway soon led Drake to consider remounting his own seminal work, in which he also originally starred. He said his decision to re-imagine the show as an ensemble piece featuring gay stage actors of different ages was part of an effort to emphasize the "intergenerational" aspect of the show's message, which is about "claiming yourself, claiming your community and fighting back" against homophobia."
"It wasn't me trying to explain what gays were to straight people; it was examining the issues that were informing homophobia, and were at the core of the AIDS epidemic in America within the gay community," he said. "It was me speaking to that."
What Drake didn't anticipate was a surprising abundance of casting riches. Before rehearsals began, he found himself with four pages of hopefuls before narrowing the cast list to 12 actors, all of whom are openly gay.
Despite the two decades that have passed since Drake wrote the show, cast members say the piece is still relevant -- at times disturbingly so -- although many of the circumstances depicted have changed.
"To know where you're going, it's important to know where you've come from," said O'Malley, who nabbed a Tony nomination for "The Book of Mormon" in 2011. "This show gives tremendous perspective of how far we have come and where we need to go in the future."
Echoing those sentiments was "Smash" and "The Addams Family" veteran Taylor. "We are still fascinated with the [relationship between straight and gay men] today. We are still fighting for our rights today so it still feels current … the LGBT voice needs presence and visibility until everyone is having the conversation. Equality needs to be taken seriously."
"The Night Larry Kramer Kissed Me" will be performed May 20 at John Jay College's Gerard W. Lynch Theater in New York. For more information, click here.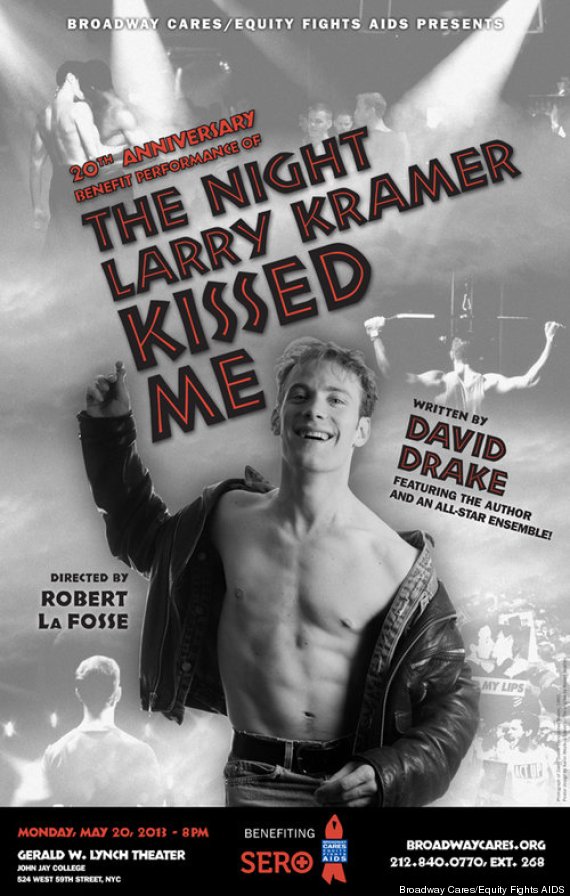 BEFORE YOU GO
PHOTO GALLERY
Tony Contenders 2013